Eptica research finds automotive, technology, insurance and government least trusted sectors
Reading, UK, 10 April 2019 – Failing to build trust undermines customer loyalty and damages revenues, with over three quarters (79%) of consumers saying they'll leave a supplier that they don't trust. At the same time, focusing on getting customer service basics right and listening to consumers will help brands more than advertising, with 63% of consumers ranking easy processes as a top three factor in building trust.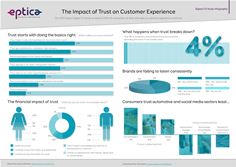 Eptica Digital Trust Infographic
These are the headline findings of the 2019 Eptica Digital Trust Study, which surveyed 1,000 consumers on their attitudes to trust, as part of wider research into the customer experience offered by top UK brands.
If trust breaks down 79% of consumers said they'd switch from a brand, with nearly half (49%) doing it immediately. A further 10% said they remain but would spend less. Just 4% said they'd continue to buy from a brand at the same level. Men are faster to switch – with 52% moving to a rival immediately, compared to 45% of women.
Demonstrating the importance of customer service to trust, 59% of consumers said 'giving satisfactory, fast and consistent answers' to their questions was vital to loyalty. Respondents trusted recommendations from friends and family (52%) above review sites and social media (28%). Over a third (35%) said good advertising was the least important factor in building trust.
"Brands need to build trust if they want to create strong, long-term relationships with consumers," said Olivier Njamfa, CEO and Co-Founder, Eptica. "If trust breaks down, customers have no qualms in switching to rivals, making it vital that brands start by getting the basics right and start to listen. They need to act and deliver on their promises if they want to be successful in meeting rising consumer expectations."
Certain industries are more trusted than others, according to the research. Food retailers were trusted most (ranked first by 21% of respondents), followed by government (16%) and banks (12%). When asked who they least trusted, the top sectors chosen by consumers were automotive/garages (16%), tech/social media (15%) and insurance and government (both 10%). This provides opportunities for brands in these sectors – if they can increase engagement and build trust they will be able to differentiate themselves successfully from rivals and increase overall revenues.
The Study also found that consumers don't feel that brands are listening to them. Just 8% said that their voices are being heard all of the time, with 74% believing brands pay attention to their views half the time or less. Given the actionable insight that customers can provide to improve processes, products and services, this shows that brands are missing out on essential intelligence that can transform their businesses.
A full report, including the consumer study results, graphics and best practice recommendations for brands to transform customer experience is available here: https://www.eptica.com/dtcxst.
An infographic on the full results of the 2019 Eptica Digital Trust Study is available here: https://www.eptica.com/eptica-study-infographic-trust-cx.
-Ends-
About Eptica
Eptica is a leading European technology company specialising in intelligent platforms for digital customer experience. Eptica provides conversational and collaborative solutions powered by AI.
Founded 18 years ago by Olivier Njamfa, Eptica supports brands to make digital CX the key link in the value chain, ensuring their customer service delivers value to consumers and across their business.
Globally, more than 450 organisations across all industries rely on our solutions on all digital channels, including Self Service & knowledge base, email, chat and social media.
We enable millions of individuals to engage in meaningful conversations with brands improving daily lives for everyone. Customers include AXA, L'Occitane Group, Dixons Carphone, Crédit Agricole, Co-operative Energy, Domestic & General, Ageas Insurance Solutions, Hastings Direct, TUI, Debenhams, Capita, RSPCA and Birmingham City Council.
Specialising in Natural Language Processing (NLP), Eptica makes the best use of AI and cognitive technologies for CX, enabling brands to improve:
Customer Satisfaction, loyalty, and sales
Competitiveness: equipping organisations with bots that automate simple tasks and provide decision support tools to enhance agents, generating greater productivity and allowing agents to focus on more complex conversations and enabling sales
Customer Intelligence: turning VoC data into actionable insight and sharing it throughout the company to continuously improve the customer experience and to guide brands and their operations.
Eptica has offices in Paris, London, Boston and Singapore. Follow us on Twitter: @Eptica.
Discover our news and opinions on the market in our blog.
For further information, please contact:
Measures Consulting
Chris Measures +44 (0) 7976 535147 / chris@measuresconsulting.com