Southwell-based civil engineering and plant hire company A & V Squires has today announced that it is celebrating its 40th year in business.
The company, which is one of the most successful firms of its kind in the East Midlands, works on major projects alongside large-scale national organisations such as British Waterways, National Grid, Alstom and Jackson Civil Engineering.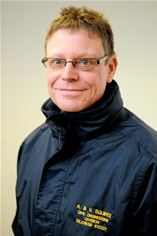 A & V Squires, Director of Squires
Founded in 1971 by Doug and Vivienne Squires, the business is currently run by their son, Robert Squires. He took sole responsibility for the running of the company in 2009 after his older brother Philip, who also played a key role in leading the business, sadly passed away.
Mr Squires, Director of A & V Squires said: "A & V Squires is still very much a family-run business and my brother and I always looked to continue and expand upon what our parents had established. The growth over the past 40 years is something we are all very proud of, with contracts spanning across the Midlands and beyond and a team of over 70 highly-qualified employees."
Originally A & V Squires focussed solely on plant hire but added civil engineering to the services offered five years ago. This is an area of specialism that has gone from strength-to-strength, complementing the plant side of the business and providing an opportunity to work with a wider client base within the construction industry.
In February this year, A & V Squires also introduced the use of Biofuel. Having invested £75,000 in a Biodiesel Fuel Plant capable of producing close to 15,000 litres of biodiesel per week, it now powers its entire fleet of lorries, vans and plant vehicles on the environmentally friendly fuel.
"Our main aim has always been to give our customers the best service possible," added Mr Squires. "We are constantly looking at ways to better ourselves professionally, for example, by making our business more diverse in what we offer and running all of our machines on Biofuel."
ENDS
About A & V Squires
A&V Squires was established in Southwell 1971 and is one of the largest plant hire, civil engineering and groundwork companies in the East Midlands. A family run business, it specialises in plant hire of all types, on and off site contract earth moving, site clearance and restoration, river dredging with specialist long reach excavators and the supply of topsoil, aggregates and recycled materials.
Media Contact
Liz Dolby
Proactive PR
Mobile Tel: +44 7966 477441
liz.dolby@proactive–pr.com