70:20:10 remains a change agent for an evolving industry
21 November 2018 – GoodPractice research has shown that after a decade of debate, 70:20:10 remains a catalyst for change despite a diverse and evolving understanding of the concept and its application within the learning and development (L&D) Industry.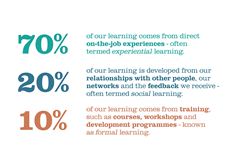 70:20:10 stats
Owen Ferguson, Managing Director of GoodPractice said, "Using in depth qualitative research we set out to interrogate fundamental questions concerning 70:20:10's practical uptake and whether it is even a net positive influence on our profession – the results truly surprised us."
"The research has shown that uptake of 70:20:10 is not only far more broad than anticipated but its practical application more sophisticated – acting as a change agent across geographies and sectors."
"The question that remains for us now is whether the core concepts behind 70:20:10 have trickled through to the consciousness of employees outside of L&D?"
To download the full report for free visit: https://goodpractice.com/ld-resources/the-evolution-of-702010-realwire/
GoodPractice interviewed L&D professionals working in the UK and Europe, Australia and the USA, across diverse sectors of industry to discover how 70:20:10 is being used today in practice.
Despite perceptions to the contrary, the report uncovered that L&D leaders use 70:20:10 to spur fundamental change, impacting L&D's overall approach to its organisation and delivery of learning interventions.
Practitioners involved in the study were found to have very pragmatic and nuanced views about 70:20:10. Interviewed organisations were sophisticated in their understanding of 70:20:10 and did not apply it in a dogmatic or prescriptive way.
"It's the learning professional who really needs to understand 70:20:10, not the learner. Learners are already living this concept naturally. There is no need to introduce it to them. However, learning professionals need to understand what it means and how to offer learning opportunities across the learners' workflow."
Sabine Gori, Credit Suisse.
"Some people can be quite dismissive of 70:20:10. My view is that they perhaps don't understand it as much as they could. When some people think about 70:20:10, they are not going deep enough. When I hear people critiquing the model, I'm always interested to understand how deeply they understand it."
Brian Murphy, Citi.
"I would say that you don't actually implement 70:20:10. 70:20:10 is there, in nature, and it is our job to harness that natural desire people have to learn, rather than trying to box people into specific slots."
Rich Dawson, Virgin Trains.
70:20:10 learning states that 70 percent of learning comes from direct on-the-job experiences - often termed experiential learning. 20 percent of learning is developed from relationships with other people, networks and feedback received - often termed social learning. 10 percent of learning comes from training such as courses, workshops and development programmes - known as formal learning.
About GoodPractice
GoodPractice provides online toolkits, e-learning and the Lean LMS platform for a wide range of organisations. Our solutions can all be utilised as stand-alone resources or seamlessly integrated into a blended learning solution. All of our products can support a 70:20:10 learning and development strategy. Find out more at www.goodpractice.com
About the research
Methodology: This is a qualitative, interview-based study, which taps directly into the perceptions, views and experiences of senior L&D practitioners. 25 organisations took part in the study, with representation from the UK, Europe, the USA and Australia.
Participating organisations were selected on the basis of size (200+ employees) and industry sector. We wanted to ensure a representative spread across the main industry sectors of each geographical region (we based this on the Russell Global Sectors classification). One-third of the participating organisations are current clients of GoodPractice.
For media enquiries:
FTI Consulting
Lena Ahad and Chris Birt
GoodPractice@fticonsulting.com