The ADLV's (Association For Driving Licence Verification's) 2017 predictions show fleets using richer, bigger data more frequently. They will be using it to drive areas from compliance through to road safety. Amongst the main predictions are:
Increased Regularity of Electronic Checking For Compliance
The best practice frequency for compliance in licence checking by fleets has recently increased to twice a year, on average. Under the recently issued FORS Standard (Version 4.0) twice yearly checks are now the minimum requirement. However, many larger fleets are now carrying out quarterly checks. As Richard Brown MD of ADLV Member Licence Check Ltd. says, "Not that long ago, many organisations were limited to annual checks. However, as the technology is now there to carry out more frequent checks with ease, fleet managers are building this into their compliance plans on a quarterly basis. This ensures that the data that fleets are now working with is almost constantly updated and therefore of a much higher quality."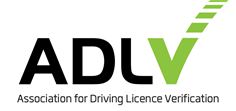 ADLV Logo
Licence Data Will Combine With Additional And Client Data Sets To Boost 'Know Your Driver' Data Quality
Early this year, CPC and Tacho data will become available alongside standard driving licence data. The ADLV is already working on a number of additional data sets to combine with driving licence and Tacho data. As Kevin Curtis Technical Director of the ADLV says, "Having driving licence data in a readily accessible format, the different types of data that can be combined are potentially endless. When combined with our clients' own data too, one can see some quite targeted data analysis, be this regional or in respect of the particular competencies of drivers required. The value of this integrated data will grow exponentially."
Greater Use Of Big Data Analytics To Drive Corporate Decision Making
There will be far more use of big data to drive fleet analytics in support of management decision making. ADLV data will play its part here. As ADLV Chair Malcolm Maycock says, "There is so much data, growing so rapidly, that we are now looking at 'Data Lakes' more than Data Warehouses. Often, we won't know what's in there unless we conduct professional business analytics to find out. Driving licence data is one of the essential elements here in terms of setting the parameters for risk profiling and management for all businesses that allow employees to drive on their behalf. It's also the obvious starting point to begin to profile the driver pool with a view to encouraging better driving styles and habits. According to recent research by Direct Line, this could cut annual fuel bills by 40%, as well as reducing wear and tear on vehicles and driving down accident rates. With the wider acceptance of black box or mobile-based telematics solutions and the spread of "connected" vehicles into the fleet and grey fleet parcs, we shall see a far greater emphasis on fleet business intelligence and driver data analysis. The information identified will drive fleet decision making as well as wider corporate and government policies on taxation, transport and the environment. It will also create a far richer more innovative data environment for fleet managers."
More Research of Road Safety. The ADLV Will Work With Road Safety Experts
Over the course of the 2017 ADLV management will be looking to work with a number of Road Safety Organisations to identify how 'Knowing Your Driver Better' can boost road safety. As ADLV Director & Secretary Dave Bartleman says, "There are collaborative opportunities here to see how the data we and others generate can feed in to the road safety dynamic. We expect to announce a new research project later in the year involving the ADLV, safety experts and leading fleet executives."
Ends
Note To Editors: About the ADLV (www.adlv.co.uk)
The Association for Driving License Verification has been established to promote and encourage best practice within the industry for the initial and continued validation of driver entitlement for responsible employers and road safety.
The ADLV will both represent and regulate Members organisations in accordance with its rigorous Code of Conduct.
For further information please contact:
Richard Payne-Gill
ADLV
07534 199236
richard.paynegill@adlv.co.uk
www.adlv.co.uk
or
Leigh Richards
The Right Image PR & Marketing Group
07758 372527
leigh.richards@therightimage.co.uk
www.therightimage.co.uk