Cliffhanger steps into the AERENA with a winning combination of deep strategy, fast gameplay and stunning graphics to mobile
Vienna, 25 June 2014 – AERENA: Clash of Champions, the turn-based strategy mobile game from Cliffhanger Productions, is now officially available for free on iOS, following a soft launch and balancing period. Combatants will be able to wage war in 10 minute bursts across Android and Apple mobile and tablets as well as Steam (PC and Mac). To celebrate the release, Cliffhanger Productions has launched a competition that will reward $1,000 to whoever takes the crown of AEther Master.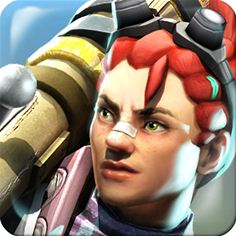 Aerena
In a world ravaged by an endless energy war for AEther, the fight has taken to the skies in deadly flying arenas. Aspiring sky-captains must choose their airships, hire a crew of Champions and battle, action by action, across nine arenas. Skillful play rewards combatants with AEther which allows them to unleash special attacks, and conquer the arena. With games that can last no longer than 10 minutes, the need to weigh their options in the heat of battle will sort the true AEthermasters from the cabin crew.
In AERENA: Clash of Champions, challengers will need superlative tactical skills to decimate opponents in head to head skirmishes that are short, intense and never over until the last breath.
Key features:
- Deep tactical gameplay: battle anytime and anywhere to destroy your enemies
- Turn-based strategy battles on mobile
- Build a winning strategy from over 20 Champions, AEther Shells and ships
- Short sessions: jump into a 10 minutes match and get your strategy fix at home or on the go
- Distinctive 3D steampunk graphics on mobile: discover a unique AEtherpunk world
- Live multiplayer: compete live against friends and other players or tackle solo challenges
- Rich world: over 300 achievements to unlock
AERENA: Clash of Champions unites the best of the Multiplayer Online Battle Arena (MOBA) with the best of mobile gaming; fast, strategic, PvP battles and quick challenges with a pick-up-and-play anywhere mentality. AERENA has already been hailed by critics for its accessible yet tactical gameplay and fans have awarded it 5 star reviews for its lack of 'pay to win' mechanics.
Future updates of AERENA: Clash of Champions will add daily quests, in-game challenges and a direct 'challenge friend' mechanic.
----END---
Note to editor:
You can download AERENA: Clash of Champions for free
iOS: http://itunes.apple.com/app/id853048509
Android: https://play.google.com/store/apps/details?id=at.cliffhanger.AErena
Steam: http://store.steampowered.com/app/247830/
Tournament Details:
In the Dawn League Season competition, open until 1st July, players will fight their way up the ranks and into the AEther Master League for a chance at winning $1,000 and other prizes. Once the dust settles, league points will be tallied and the grand prize of $1,000 will be awarded to first place, with $500 for second and $250 for third. Two iPads will also be raffled off to players reaching the highest tiers of the League. The six tiers of the League are Bronze, Silver, Gold, Platinum, Diamond and AEther Master.
Assets and information:
AERENA: Clash of Champions official website - http://aerena.net/
Gameplay Trailer - https://www.youtube.com/watch?v=f2g9BfUWNsk
About Cliffhanger Productions
Cliffhanger Productions' goal is not just to shape, but to be the trend in the next generation of free-to-play online and mobile games. With 30+ years of international experience in the gaming and publishing industries, a portfolio of successful brands developed with a "players-first" attitude, and a proven toolbox for process excellence, Cliffhanger is on its way to becoming a trusted, multi-talented landmark in a sea of generic online and mobile games.
http://www.cliffhanger-productions.com/
Media Contact
For more information and to schedule an interview with the developers, please contact:
Valentina Ciolino, dimoso, valentina@dimoso.com +44 (0) 207 033 2660 www.dimoso.com