Hit show 'Khod Aqolak' extends ALTV's presence as the fastest growing digital platform for current entertainment across the Middle East and North Africa
Cairo, Egypt, 18th April 2017: ALTV, one of the fastest growing free streaming services recently launched in the Middle East and North Africa, has found further success in providing exciting and locally relevant content with 'Khod Aqolak' after the platform attracted the attention of the show's star, Ibrahim Farouk.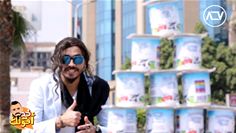 Ibrahim Farouk on hit prank show Khod Aqolak
The show's title comes from a slang term translating to 'Let Me Tell You' and focuses on Farouk's brazen approach to interviewing everyday people on the streets of Cairo, merging the styles of a prank show with topical discussions. By approaching people with the camera already rolling, and often performing a cheeky action such as helping himself to their drink, Farouk draws out completely natural interactions from unprepared individuals.
Farouk has previously worked in the Egyptian media industry, but experienced problems in finding a platform that shared his vision behind Khod Aqolak. His awareness of ALTV and its mission to turn viewers from across the MENA into digital content creators led to a successful meeting in which ALTV representatives instantly recognized the show's potential.
David C. McCourt, founder of ALTV and executive producer on Khod Aqolak said: "Since the outset, ALTV has been focused on helping nurture the talents of young creators who previously lacked access to training, equipment and a platform to grow their audience. When we were presented with Farouk's vision for Khod Aqolak, we wanted to bring him into our community of creators and we continue to seek young people hungry to share original, exciting new content".
Commenting on the launch of Khod Aqolak, Farouk, said: "I am incredibly excited to be part of ALTV's community, which is bringing fresh opportunities to a growing number of talented content creators. After collaborating on the pilot for Khod Aqolak I knew ALTV was the perfect platform to reach our young, digital savvy audience. ALTV is filling a major gap in the broadcast market, providing local user generated content for local audiences."
The show's launch comes shortly after ALTV announced the first ever user-generated daily current events show in Egypt, 'Street's Point of View', which has seen rapidly growing audiences tune in to see people on the street share their views on the day's trending topics at home and abroad.

ALTV is currently expanding across the MENA region, having recently launched in Morocco with a French language platform. As the platform expands further to provide wider audiences with relief from uninspiring local television channels and westernized online alternatives, hit shows including Khod Aqolak will be adapted for each new country that ALTV launches in.
See more at http://www.altv.com/
Download the ALTV app, available on Android or iOS
-END-
About Ibrahim Farouk:
Ibrahim Farouk is an Egyptian media personality based in Cairo. Farouk has experienced life on both sides of the camera working for numerous production houses and is also a founding member of hip hop duo Asfalt. Farouk takes his influences from the streets of Cairo and his work centres around a variety of social and cultural themes.
About ALTV.com:
ALTV.com is a community-led digital media platform, empowering people to create high quality content that matters to them. It democratizes the field of content creation and provides a platform of opportunity for all local creators to unleash their inner skills and make their passions a reality. Its unique focus on developing individual talent within communities large and small sets it apart in an increasingly competitive market.
Whether creators are simply making their first video or looking to open doors to commercial work, ALTV provides them with access to training and support that nurtures their creative ideas and rewards their ambitions. Creative exploration and the power of expression are vital aspects of every society. ALTV promotes these ideals using its wide, multi-discipline expertise to invest in every aspect of content creation, from production to marketing.
ALTV's agile structure allows it to embrace the rapid changes in the way young people consume and create media. ALTV is constantly innovating to meet their demands, both culturally and in developing skills. ALTV understands that regional and cultural differences are nuanced and varied, and celebrate that diversity in scope and subject.
For more information, visit: www.altv.com
-END-
MEDIA ENQUIRES
Please contact Tom Webb at tomw@whiteoaks.co.uk or call +44 (0) 1252 727 313