Star-studded show featuring Rajae Qawas to air on ALTV's online platform throughout Ramadan
Monday 8th May - ALTV, one of the fastest growing free streaming services recently launched in the Middle East and North Africa, today announced its partnership with Jordanian broadcaster ROYA TV in a deal that will see the broadcaster's upcoming comedy show 'Al Hob! Al Hob!' made available to online audiences exclusively through ALTV's free streaming platform.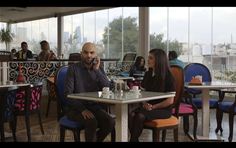 Rajae Qawas
'Al Hob! Al Hob!', the Arabic translation of "Love! Love!", follows the comical journey of Jamal, a man in his late twenties portrayed by celebrated Jordanian actor and comedian Rajae Qawas. Through a series of hilarious comic scenes, Jamal, who has grown accustomed to a reclusive lifestyle after moving abroad to study in Jordan, must find his feet in the confusing world of dating to find the perfect wife and marry according to his controlling parents' wishes who want him to return to their family home in Muscat, Oman with his new bride.
Al Hob! Al Hob! will exclusively launch the first of its 30 episodes online at ALTV.com on the first day of Ramadan (26 May) and will continue to air daily throughout the holy month.
As one of the most watched stars across the MENA region and the Gulf, Qawas has amassed 3.5 million views per episode and over 60 million views on previous projects such as 'N20' and 'Female Show'. In this latest show, he continues to showcase his work as a master of comic acting, connecting to themes of youth, community and emerging behaviours, as portrayed in 'Al Hob! Al Hob!'.
Commenting on the deal, Qawas said: "It's incredibly exciting to have an online video platform with ALTV's expertise stream the show for free online during Ramadan. It's a great way for people to catch up, share and view on-demand in a way that suits their lifestyle."
Adding further star appeal to the show, the supporting role of Yasmina, a pretty but unlucky-in-love girl in her late twenties will be played by Maisa Abdul Hadi, a celebrated stage and screen actress who won the Best Actress awards at the Dubai International Film Festival in 2011 for her role in feature-length drama Habibi.
Through its online broadcast on ALTV, the show will reach a wider audience across MENA who are growing increasingly hungry for relevant quality content. Accessible online and via its own dedicated app, ALTV enables viewers to stream high quality user-generated content for free. This benefits audiences that do not have access to on-demand TV services and enables viewers to catch up online at their own leisure.
Fares M. Sayegh, owner of ROYA TV which will broadcast it on linear television throughout Ramadan, added: "We're thrilled to strike up a partnership with ALTV which has been making waves in the online world across the Middle East and North Africa and look forward to collaborating on this exciting project and beyond."
This latest launch of 'Al Hob! Al Hob!' brings ALTV audiences a taste of exclusive higher-budget original content in addition to its exciting growing catalogue of new series created by its talented pool of creative content collaborators. Hit shows on ALTV include trending topics show 'Lel Share3 Weghet Nazar' and street prank show 'Khod Aqolak'.
Set to air on both ALTV and ROYA TV simultaneously over the Ramadan period, 'Al Hob! Al Hob!' will also entertain audiences through exclusive social media launches, including mini episodes, teaser posts and Facebook, Instagram and Snapchat stories posted by Rajae Qawas and others.
David C. McCourt, founder of ALTV and seasoned television producer commented: "This is a fantastic opportunity to bring relatable content to audiences across MENA, bolstering the popular content that is already being shared by ALTV's established and growing network of young content creators. Al Hob! Al Hob! brings star power and strong production values to our focus on creating shows that look into the eyes and speak the minds of local people.
"This partnership between ALTV and ROYA TV highlights the success that ALTV's homegrown stars have found in the short amount of time since the platform's launch last year and it will be incredibly exhilarating to see the content that they have created featured alongside Al Hob! Al Hob! and its established stars".
See more at http://www.altv.com/
Download the ALTV app, available on Android or iOS
Keep up to-date with upcoming news ahead of the launch of Al Hob! Al Hob! on Twitter and Instagram
About ALTV.com:
ALTV.com is a community-led digital media platform, empowering people to create high quality content that matters to them. It democratises the field of content creation and provides a platform of opportunity for all local creators to unleash their inner skills and make their passions a reality. Its unique focus on developing individual talent within communities large and small sets it apart in an increasingly competitive market.
Whether creators are simply making their first video or looking to open doors to commercial work, ALTV provides them with access to training and support that nurtures their creative ideas and rewards their ambitions. Creative exploration and the power of expression are vital aspects of every society. ALTV promotes these ideals using its wide, multi-discipline expertise to invest in every aspect of content creation, from production to marketing.
ALTV's agile structure allows it to embrace the rapid changes in the way young people consumer and create media. ALTV is constantly innovating to meet their demands, both culturally and in developing skills. ALTV understands that regional and cultural differences are nuanced and varied, and celebrate that diversity in scope and subject.
For more information, visit: http://www.altv.com/
-END-
MEDIA ENQUIRES
Please contact Tom Webb at tomw@whiteoaks.co.uk or call +44 (0) 1252 727 313