Four heavyweight companies join the Association of Passive Optical LAN to further justify and drive market opportunity for fiber-based networks
NEW YORK, April 27, 2016 – The Association for Passive Optical LAN (APOLAN), a non-profit organization driving the adoption and education for passive optical local area network (LAN), today announced that four new global members have joined the Association. Nokia, Huawei, CallisonRTKL and Automated Systems Design are the most recent additions to APOLAN's strong line up of global industry experts.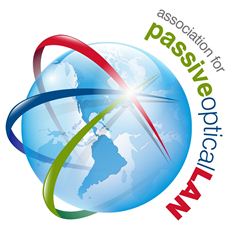 APOLAN logo
In addition to expertise in the technology and architecture space, many of APOLAN's new members will have an impact on the Association's global presence. This includes strong representation for the Association's European Chapter, which is set to significantly enhance and advocate European market awareness and education of the many benefits of passive optical LAN.
Passive optical LAN's popularity is on the rise as enterprises are experiencing increased pressure to meet growing bandwidth consumption demands. APOLAN's existing and new member companies – from technology vendors, to system integrators and to AEC consulting firms – deliver the reliable, scalable, secure and high bandwidth backbone networks that companies require to meet today and tomorrow connectivity needs. As a result, more and more enterprise companies are seeking reliable, cost-efficient, and flexible alternatives to copper-based networks.
"Our members are driving forces in their industries, champions that lead passive optical LAN adoption in the enterprise," says Brian D. O'Connell, Chairman of the APOLAN. "Membership interest from industry heavyweights is a testament to the increasing growth and demand for fiber-based technology in the market. There is no doubt that passive optical LAN is gaining traction and can no longer be ignored."
APOLAN members receive access to the Association's existing resources and website, in addition to making their own content available to other members and the industry. For more information on the members, or to apply for membership, please visit http://www.apolanglobal.org/membership/member-list/.
About The Association for Passive Optical LAN (APOLAN)
The Association for Passive Optical LAN is a non-profit organization that is driving adoption, and educating the market about the technical and economic advantages of Passive Optical LAN technology. Through its members comprised of manufacturers, distributors, integrators, and consulting companies actively involved in the marketplace, the Association hopes to help design engineers, architects, building owners, CIOs and IT departments succeed with Passive Optical LAN. For more information, visit http://www.apolanglobal.org/
About Nokia
Nokia is a global leader in the technologies that connect people and things. Powered by the pioneering work of Bell Labs, our research and innovation division, and Nokia Technologies, we are at the forefront of creating and licensing the technologies that are increasingly at the heart of our connected lives. We combine global leadership in mobile and fixed network infrastructure, with the software, services, and advanced technologies to transform how smart devices and sensors tap the power of connectivity. With state-of-the-art software, hardware and services for any type of network, Nokia is uniquely positioned to help communication service providers, governments, and large enterprises deliver on the promise of 5G, the Cloud and the Internet of Things. Nokia is the worldwide leader in fixed access technologies. We offer 20+ years of broadband experience, support 200 fiber projects, and have shipped more than 25 million GPON ports worldwide. Our passive optical LAN solutions help all types of organizations build LANs that support premium service experiences, reduce cost, and deliver value for decades.
About Huawei
Huawei is a leading global information and communications technology (ICT) solutions provider. Our aim is to enrich life and improve efficiency through a better connected world, acting as a responsible corporate citizen, innovative enabler for the information society, and collaborative contributor to the industry. Driven by customer-centric innovation and open partnerships, Huawei has established an end-to-end ICT solutions portfolio that gives customers competitive advantages in telecom and enterprise networks, devices and cloud computing. Huawei's 170,000 employees worldwide are committed to creating maximum value for telecom operators, enterprises and consumers. Our innovative ICT solutions, products and services are used in more than 170 countries and regions, serving over one-third of the world's population. Founded in 1987, Huawei is a private company fully owned by its employees.
About CallisonRTKL
For more than five decades, Callison and RTKL have created some of the world's most memorable and successful environments for developers, retailers, investors, institutions and public entities. In 2015, our two practices came together under the Arcadis umbrella, expanding our sphere of influence and the depth and breadth of our resources. Our team is comprised of more than 2,000 creative, innovative professionals throughout the world who are committed to advancing our clients' businesses and enhancing quality of life.
About Automated Systems Design (ASD)
Founded in 1987 and headquartered in Alpharetta, Georgia with an additional office located in Conover, NC Automated Systems Design, Incorporated offers the leading manufacturing, management and maintenance of nationwide custom turnkey Information Transport Systems. ASD's project management team is based on the design-build method delivering customers a National Services Consultant that serves as a single source of contact for complete project needs. This collaborative approach compresses the channels of communication, resulting in efficiency that benefit the customer in cost, schedule and communication. With over 700 certified and trained technicians we offer complete voice, video, data and security, design-build, services and support for physical infrastructures of any complexity nationwide.