Hoesbach, September 22, 2011 – ASC (www.asctelecom.com), a leading global provider of innovative solutions to record, analyze and evaluate communications, today announced the appointment of Dr. Clemens Pieper as Vice President Global Sales. He will be responsible for all global sales activities including sales for ASC's branch offices.
With 15 years of experience in consulting and sales for IT service providers, Dr. Pieper has managed software implementation projects, participated in solution design and developed sales structures in various management positions, including General Manager, at premier organizations. His competence and experience in software solutions will support ASC's transition to a provider in this field.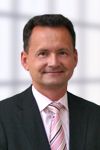 Dr. Clemens Pieper
Guenther Mueller, Chairman & CEO of ASC, said, "I am pleased to welcome Dr. Pieper as a new member of ASC's corporate management. With eight years General Management experience in SAP business, Clemens has demonstrated a strong ability to lead organizations to profitable growth by creating and realizing market-driven sales strategies. His pattern of leadership motivates sales teams to hit challenging sales targets and achieve sustainable customer satisfaction."
ASC's communications recording and quality management solutions enable the analysis of customer interactions, enhance customer service, efficiently deploy staff and increase productivity. The company recently won a contract with Deutsche Telekom, one of the largest telecommunications providers in Europe, and its award-winning VoIP recording software, EVOip, was selected by Google for its contact centers worldwide.
Dr. Pieper studied economics at the University of Mannheim and achieved a doctor in Business Administration at the Technical University of Darmstadt. He will report directly to Mr. Mueller.
About ASC
ASC is a leading global provider of innovative solutions to record, analyze and evaluate multimedia-based communications. ASC's solutions reveal information, enabling companies and organizations to considerably improve their value creation: contact centers enhance customer service, efficiently deploy staff and increase productivity. Financial institutions fulfill documentation requirements, achieve a higher level of legal security and reduce costs. First responders and public safety organizations enhance reactivity in emergency situations.
ASC's software solutions are used in contact centers to continuously measure and improve the quality of customer contacts. Data from all communication levels in contact centers are collected, brought together and evaluated to help train agents and optimize customer service. Based on the content of recorded calls and screen activities, INSPIRATIONpro reveals improvement potentials in contact center operations including processes, marketing, sales activities, time of reaction and problem analysis.
ASC subsidiaries and sales offices in France, Germany, Japan, Singapore, Switzerland, United Arab Emirates, Great Britain and the United States as well as certified, powerful distribution partners realize ambitious customer projects all over the world. An export quota of more than 50 percent, together with its worldwide service network, makes ASC a powerful global player.
For more information, contact:
ASC telecom AG • Seibelstrasse 2 - 4 • 63768 Hoesbach • Germany
Contact: Katrin Henkel, PR & Communications
Phone: +49 6021 5001-264
Fax: +49 6021 5001-310
E-mail: k.henkel@asc.de
Internet: www.asctelecom.com