neo combines WFO technologies to improve business performance

WFO Suite Comes out of the Cloud

Booth #A15, Hall 2, February 26-28, 2013, Berlin
Hoesbach/Germany, January 28, 2013 – ASC, a leading global provider of innovative solutions to record, analyze and evaluate multimedia-based communications, today announced it will present its new neo WFO suite at CCW in Berlin, Germany, on February 26-28, 2013, booth #A15 in Hall 2.
Last year, approximately 7,700 visitors traveled to Berlin to participate in Europe's largest branch event for customer service, communications and contact centers. ASC's neo WFO suite will integrate communications recording with powerful functions such as quality and performance management, speech analytics, eLearning, workforce management and customer feedback. The software is available as a cloud-based solution so users can select the capabilities they require, saving on the cost and avoiding the risk of obsolescence.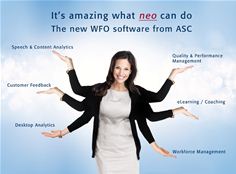 ASC WFO Suite
Dr. Frank Schaffrath, CEO of ASC, said, "Our solution's motto, 'it's amazing what neo can do,' is perfectly suited to the CCW emphasis on new contact center technology. We look forward to showing how neo can improve company performance in a sustainable manner, create employee and customer loyalty, and increase profitability."
Schaffrath continued by describing how neo translates customer communications into high-impact action plans for management. The solution focuses on contact centers to gather information on the performance of the entire enterprise and then utilizes the data to improve agent skills, streamline company processes and independently evaluate customer satisfaction.
In addition to its booth, ASC will also be present in Hall 5 at the CCW LiveCallCenter to demonstrate the analysis and evaluation of communications processes for travel guide services, and to provide a customized example of how the customer's voice can be transformed into powerful management decisions. The LiveCallCenter represents a key innovation by CCW to demonstrate exhibitor solutions in action.
ASC is also offering free tickets to visit the exhibition at http://ccw.asctelecom.com/. For a promotional illustration of "it's amazing what neo can do", click here.
About ASC
ASC is a leading global provider of innovative solutions to record, analyze and evaluate multimedia-based communications. ASC's solutions reveal information, enabling companies and organizations to considerably improve their value creation: contact centers enhance customer service, efficiently deploy staff and increase productivity. Financial institutions fulfill documentation requirements, achieve a higher level of legal security and reduce costs. First responders and public safety organizations enhance reactivity in emergency situations.
ASC's software solutions are used in contact centers to continuously measure and improve the quality of customer contacts. Data from all communication levels in contact centers are collected, brought together and evaluated to help train agents and optimize customer service. Based on the content of recorded calls and screen activities, INSPIRATIONneo reveals improvement potentials in contact center operations including processes, marketing, sales activities, time of reaction and problem analysis.
ASC subsidiaries and sales offices in France, Germany, Singapore, Switzerland, UA Emirates, UK and USA as well as certified, powerful distribution partners realize ambitious customer projects all over the world. An export quota of more than 60 percent, together with its worldwide service network, makes ASC a powerful global player.
For more information, contact:
ASC telecom AG • Seibelstrasse 2 - 4 • 63768 Hoesbach • Germany
Contact: Katrin Henkel, Manager PR & Communications
Phone: +49 6021 5001-264
Fax: +49 6021 5001-310
E-mail: k.henkel@asc.de
Internet : http://www.asctelecom.com/