First Partner Certified for TETRA Network Release 6.0
Hoesbach/Germany, February 13th, 2015 – ASC, a worldwide leading software company with innovative solutions to record, analyze and evaluate communications, will demonstrate its new TETRA recording solution at SNUC (Airbus Secure Network Operators' and Users' Interface Conference) 2015. The company's communications recording portfolio is the first certified for TETRA network release 6.0.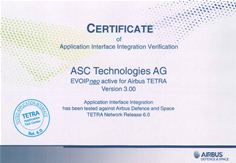 Certificate
ASC is a gold member of the TWISP developer network of Airbus Defence and Space, the second largest aerospace and one of the top 10 defense companies in Europe. TWISP facilitates the integration of external solutions in Airbus's TETRA networks.
SNUC 2015 will be held on March 4-5, 2015 at the Grand Hyatt Hotel Martinez in Cannes, France. Organized by Airbus Defence and Space, the 23rd SNUC conference attracted 200 industry professionals from 35 countries last year. This year's meeting will focus on secure operations for radio and mission-critical communications.
Marco Mueller, Chief Operating Officer of ASC, said, "Our communications recording solutions for public safety organizations reduce reaction times and thus save lives. First responders can rely on our fail-safe solutions and thus focus solely on the task at hand."
Mr. Mueller went on to discuss some of his solution's capabilities including secure recording of all voice and data by VoIP, trunked radio and SDS (short data services) as well as analog and digital telephony in command-and-control environments. Calls are recorded with time and ID stamps for subsequent analysis.
ASC's experience with TETRA, an important standard enabling radio communications among otherwise disparate systems, spans many years. In 2014, the ASC recording solution EVOip neo active was certified for Airbus TETRA.
About ASC
ASC is a worldwide leading software company with innovative solutions to record, analyze and evaluate communications. All multimedia interactions in contact centers, financial institutions and public safety organizations are documented and analyzed. The content of communications becomes transparent, critical information is generated and market trends are revealed, providing real-time business intelligence for immediate management action.
ASC solutions make customer experience measurable. Specific actions can be taken to significantly improve customer retention, increasing corporate revenue and creating sustained loyal customers. Thus, ASC's clients are always one step ahead of the competition.
ASC also offers its entire suite as a Cloud solution. Therefore, customers have the choice to retrieve Software as a Service, on demand and always up-to-date, without any risk or pre-investment, and in the most flexible manner.
With subsidiaries in the United Kingdom, France, Switzerland, the United States, Brazil, Japan, Singapore and Dubai, as well as certified and vastly experienced distribution partners, ASC's ambitious projects span more than 60 countries. Headquartered in Germany, ASC is a powerful global player with an export quota of almost 70 percent and a worldwide service network.
For more information, contact:
ASC Technologies AG • Seibelstrasse 2 - 4 • 63768 Hoesbach • Germany
Contact: Christiane Landgraf, Marketing, PR & Communications
Phone: +49 6021 5001-257
Fax: +49 6021 5001-310
E-mail: c.landgraf@asc.de
Internet: www.asc.de