Greater Manchester based housing association, New Charter Group has achieved over £125k of savings across its voids operation, by using the Aareon 1st Touch mobile software (www.aareon.co.uk).
The introduction of the new mobile voids process follows New Charter's widely acclaimed digitisation programme. This succeeded in driving efficiency; achieving optimal Value for Money and boosting customer care for the association, which has around 19, 500 homes across Manchester and Nottinghamshire. The Aareon 1st Touch mobile voids process was chosen by the association's Business Transformation team and enables New Charter to produce a number of key electronic forms, moving away from a paper based process. Voids is an important part of the Keys-to-keys process; an area of the business which has been streamlined resulting in astonishing savings across the Group.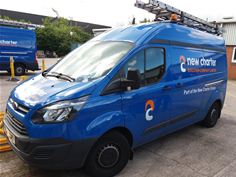 New Charter Group
Through using the Aareon 1st Touch mobile voids system, time has been significantly reduced for operatives, who can now access and record information relating to void properties on their mobile devices. This instantaneous response means any repair work is completed quickly and efficiently. By eliminating paper forms and streamlining the processes involved, the new voids system has saved a total of £125k.
Robert Porter, Director of Asset Management at New Charter Group comments, "The new Aareon 1st Touch void process has significantly streamlined our void pre-assessment process, delivering significant efficiencies. We have reduced the surveyor time spent on voids, experienced less human errors, reduced the overall processing time - all resulting in an improved void re-let time and higher levels of job satisfaction from the surveyors."
Chris Brown, Senior Developer at New Charter Group also comments, "Developing the voids process form is crucial to how the procedure works and introduced a new way working, not only for the team but the business as a whole. The Aareon 1st Touch mobile voids software allows me the flexibility to adapt the form when needed, further improving the process for end users and ultimately adding to our cost savings."
For his part Aareon UK MD Nigel Rees welcomed these comments adding, "New Charter's award winning digitisation programme is an excellent example of how to get the most from a major technology investment. Voids is one key area where technology has wholly transformed the processes involved and the results are truly exceptional. We look forward to working closely with New Charter on other areas where our software can have a similar impact."
Ends
About New Charter Group
New Charter formed in 2000 as the new landlords to own and manage homes transferred from Tameside council in Greater Manchester. With a turnover of approximately £100m a year and a workforce of around 850, New Charter is one of the region's largest registered providers of social housing. By incorporating Gedling Homes and Aksa Homes the Group owns around 19,500 homes. It came 32nd in the 2017 Sunday Times 100 Best Not-For-Profit Organisations To Work For survey and was voted number 19 in 24 Housing's Top 50 Landlords (2016).
www.newcharter.co.uk
Twitter: @NewCharterGroup
New Charter also sponsors four academies through its Great Academies Education Trust. This includes three secondary academies (New Charter Academy in Ashton, Copley Academy in Stalybridge and Middleton Technology School in Rochdale) and one primary (Silver Springs Academy in Stalybridge).
More at www.greatacademieseducationtrust.org.uk
For Enquiries about New Charter, please contact:
Tanya Edwards
Communications Specialist
New Charter Group
T: 0161 331 2034
M: 07566983693
About Aareon (www.aareon.com)
Aareon is the leading European Software Company providing IT solutions to the Social Housing Sector. With many years of industry specific knowledge, our position as a profitable, growing and innovative organisation enables us to set the standard for business processes in the housing sector both today and into the future.
The Aareon Product Suite provides housing providers with an enterprise-wide solution.
Aareon QL Housing, Aareon QL Financials, Aareon QL CRM, Aareon QL Asset Management, Aareon QL Personnel & Payroll, Aareon 1st Touch Mobile, Aareon 360, Aareon QL Reporting Service, Aareon QL Task Centre Alerts & EDRM.
For further information on 1st Touch / Aareon please contact:
Emma Page
Aareon UK
02476 323723
Emma.Page@Aareon.com
www.aareon.co.uk
@AareonUKLtd
or
Leigh Richards
The Right Image PR & Marketing Group
07758 372527
leigh.richards@therightimage.co.uk
www.therightimage.co.uk