Acclaimed digital artist Jane Long (Australia) is bringing her art to London this week at the Affordable Art Fair, Battersea Evolution, Battersea Park.
Jane gained international recognition in 2014 with her Dancing with Costică series, a whimsical reworking of Romanian photographer Costică Ascinte's work. Ascinte died in 1984 and his work has since been digitised by photo enthusiast Cezar Popescu. Each photograph in the Dancing with Costică series was carefully colorized and treated to a little Photoshop magic by Long in her romantic reinterpretations.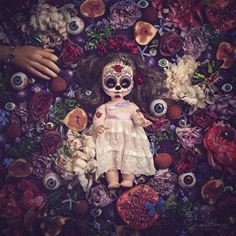 Sugar & Spice
Jane's pieces will be exhibited and sold through Retrospect Galleries' stand at the Fair. These will include pieces from the Dancing with Costică series and Jane will also be launching her new series, Nasty Little Creatures.
"I'm really excited to be showing in London for the first time!" says Long. "The Dancing with Costică series gained a lot of interest in the UK and I'm looking forward to seeing people's reaction to the new series, which is quite different."
This is a significant week for Jane as she also produced the album artwork for the latest offering from Norwegian singer Aurora, who shot to fame last Christmas when she covered Oasis' "Half the World Away" for the John Lewis Christmas campaign. The album is due for release this Friday, 11th of March and the collection of images feature Aurora in fantastical scenes as well as a series of still lifes.
For more information about Jane Long visit www.janelong.com.au.
--END--
For more information or images please contact Jane Long at info@janelong.com.au or on +617 3857 5737.