Merchants benefit from concurrent testing and measuring of payment pages to ensure optimal conversion rates
AMSTERDAM, 16th July, 2012 – Adyen, the multichannel payment solution transforming business globally, has today announced the availability of A/B Testing of payment pages, a new capability that enables merchants to optimize conversion rates by concurrently testing and measuring different payment pages. A/B Testing splits shoppers between different versions of the payment page – each with differing skins and layout – in order to generate deep analytic data that can be used to manipulate and optimize the payment page.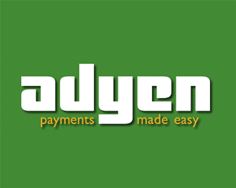 Adyen Logo
Converting an optimal volume of website traffic into successful transactions is a challenge faced by all merchants operating on the Internet, and there are many variables that can influence a shopper's decision to commit to a purchase. With A/B testing, merchants can compare and contrast all variables associated with the payment page – colour schemes, languages, logos, payment methods, page layout – and receive direct feedback on the tactics that work, and the ones that do not.
"The new A/B Payment Testing capability from Adyen has enabled us to split traffic to our payment page so that we can optimise the metrics we care about – conversion, sales and bounce rates," explained Jurgen de Jonge, MD of eSail (www.McGregorStore.com and www.GaastraProShop.com). "For the first time, Gaastra is able to establish specifically what prevents shoppers from completing purchases by testing all variables associated with the payment page. It is an incredibly powerful conversion tool."
Prior to the general availability of A/B Testing of payment pages, businesses operating online would have to develop their own in-house software to carry out similar test procedures. The newly added, easy to implement and use, A/B Testing functionality will be available as part of Adyen's 'one stop shop' payment solution.
"The launch of A/B Testing is the latest payment innovation from Adyen. From creating ultra-streamlined single-click payment processing, to generating unparalleled insight into shopper behavior at the checkout stage, Adyen continues to thrust breakthrough after breakthrough into the payment arena," explained Roelant Prins, CCO, Adyen. "A/B testing of payments has not previously been available to merchants and we look forward to working with new and existing clients to implement this next generation payment optimization functionality."
To see a video of Adyen AB Testing in action, please follow this link: http://www.youtube.com/watch?v=WmjGd7G7PhA
For more information please visit Adyen's website www.adyen.com or via these links:
Twitter: http://twitter.com/AdyenPayments
LinkedIn: http://www.linkedin.com/company/adyen
-ends-
About Adyen
Adyen is a next generation Payment Service Provider, transforming business globally with its multichannel payment solution. Adyen provides a fully hosted payment solution that enables online businesses to accept payments from anywhere in the world. Using the latest technology, Adyen operates a highly scalable, cost-effective payment platform that supports all relevant sales channels, including online and mobile.
Press Contacts:
Will Stanley
AxiCom for Adyen
+44 (0) 208 392 4095
will.stanley@axicom.com