Multichannel payment service provider picks up award for most innovative mobile point-of-sale device
AMSTERDAM, NETHERLANDS 15th February 2013 – Adyen, the global payment company, today announced that its innovative Shuttle mobile point-of-sale (MPOS) device has won the Guiding Hand M-POS Award at the Merchant Payments Ecosystem Conference in Berlin, Germany. The award offers recognition to the innovations that have most improved the shopping experience for consumers through the use of smartphones, tablets or PDAs at point-of-sale.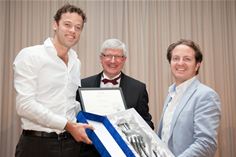 Adyen Wins 'Guiding Hand M-POS Award'
Launched at simultaneous events in Berlin, London and Amsterdam in late 2012, Shuttle provides MPOS functionality with a difference. The fully EMV (EuroPay, Mastercard, Visa) compliant device connects to any smartphone or tablet via a Bluetooth connection, enabling users to safely process Chip&PIN credit and debit card transactions at the point-of-sale. At the award ceremony, Shuttle earned plaudits for its ease-of-use and secure Chip&PIN functionality. The ability to integrate Shuttle with online and mobile sales channels also impressed the jury, as did its highly competitive price tag.
Leon Dhaene, Chairman, Guiding Hand Awards, commented, "The jury appreciated that Adyen has created an M-POS solution which is easy to use, offers secure PIN & chip, multichannel, and accepts all major card schemes. In addition, Shuttle's pricing is most democratic, and in the reach of all types of businesses, ranging from high volume, and high throughput to the single transaction a day merchant."
The Shuttle terminal is highly cost effective - the device costs €99 ($129) and the service is charged a low fee per transaction with a minimum of €10 a month, while traditional point-of-sale terminals cost many hundreds. The device launched in December and is available throughout Europe.
"Adyen's goal is to offer the most advanced multichannel payment solution using the very latest technology available," said Roelant Prins, CCO, Adyen. "After our successes in delivering true innovation to the heart of both E-Commerce and M-Commerce, we were proud to introduce the same level of innovation to the point-of-sale channel in 2012. This major achievement, together with the rollout of our own card acquiring solution, positions Adyen as one of the world's leading payment companies. We have very high hopes for our Shuttle MPOS solution, and achieving this sort of recognition from the Guiding Hand Awards shows that true innovation within the industry does not go unrewarded."
For more information please visit Adyen's website www.adyen.com or via these links:
Twitter: http://twitter.com/AdyenPayments
LinkedIn: http://www.linkedin.com/company/adyen
About Adyen
Headquartered in Amsterdam, with offices in Boston, San Francisco, London, Paris, Stockholm, Sao Paolo and Singapore, Adyen is a leading, multichannel payment company. Adyen provides a fully outsourced payment solution, built on over 15 years of industry experience, which enables merchants accept payments from anywhere in the world. Adyen supports all relevant sales channels, including online, mobile and Point-of-Sale (POS), and can process up to 200 different payment methods, 187 transaction currencies and 14 settlement currencies used across six continents. The Adyen solution is highly scalable and can be completely customized to meet any merchant requirement. Adyen works with many global customers including SoundCloud, Getty Images, Benetton, KLM, PopCap Games, Greenpeace, and Vodafone. For further information, please visit www.adyen.com