The www.followthisfood.info website tracks food all the way from farm to supermarket shelf, allowing consumers to scan and trace each item back to the farm and farmer who produced it.
Bristol, 17 February 2016
Agrantec, the UK-based developer of systems that helps small producers save time and gain retail value, has seen triple digit growth in retail trace traffic at www.followthisfood.info.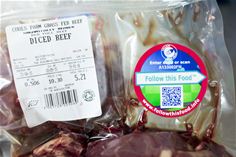 FollowThisFood Label
"When we launched FollowThisFood it was the first site to open this data to the consumer. Now many more producers and consumers are finding out about FollowThisFood, and realizing how they can improve their businesses and make healthier, more ethical choices in their daily lives," said Martin Coates, Managing Director.
Founded in 2010, Agrantec's free-of-charge FollowThisFood focuses on helping small producers explain the value of their produce directly to the consumer, by re-purposing production tracking data to help the customer see the entire supply chain by scanning a code printed directly on the packaging. Producers can generate and print free tracking codes directly from the website.
"Whether it's helping producers save valuable time by automatically tracking HACCP paperwork, or allowing consumers to access information about where their food comes from and be more informed how it was produced through FollowThisFood, we're glad to be helping bring transparency to the food supply chain," continued Coates. "www.followthisfood.info is really the final step in the process, helping connect ethical producers to retail customer who care about quality, with the Agrantec NotaZone platform supporting the entire production chain."
NotaZone consists of a cloud-based data platform and a wide range of focused apps. NotaZone can store any kind of data or document, and offers solutions for production tracing, quality control, stock tracking, warehouse management, HACCP compliance, as well as documentation management and reporting. Designed in the heart of the English West Country, Notazone is already in daily use with numerous local businesses and some large national producer organizations.
"We've published four case studies at www.agrantec.com that show different aspects of the complete process for one product – farming, processing, packing and retailing," said Andy Bingham, CTO. "Each one shows how a small family producer was able to track their produce from farm to fork, and explain the value of the produce in the shop through www.followthisfood.info. We've made it really simple to store and track production records and then use them to confirm the authenticity of an ethical or organic food."
FollowThisFood has been in service for more than 18 months and is free for consumers to use. Agrantec is currently offering a free 3 month trial to producers who would like to save time and improve their retail presence, as well as free tracking codes for produce.

About Agrantec
The Agrantec team took a long, hard look at the way that farming and the food supply chain worked. They decided that they could do something to improve both ecosystems. Food is a supply chain unlike any other. Consumers who have a keen interest in knowing exactly what has been done to their food from the beginning of the food chain to the end can find out more from www.followthisfood.info. For primary producers, e.g. farmers or fishermen, the job is less about competition and more about doing a great job producing quality food and managing the environment in a sustainable way on a global playing field. There is much greater scope for co-operation and collaboration than in many other types of supply chain, and Agrantec has developed the NotaZone platform to allow a more streamlined, automated and collaborative approach than ever before.
Contact
Chris Larmour
T +44 117 926 9003
E marketing@agrantec.com