eHI is the fifth award received in addition to accolades from the UK IT Industry Awards and Computer Weekly's European User Awards for Enterprise Software
Project delivered in conjunction with Capita Total Document Solutions who provided outsourced scanning services powered by Kodak imaging technology
October 16, 2013 – CCube Solutions today announces that Aintree University Hospital NHS Foundation Trust has won 'Best use of IT to support healthcare business efficiency' at the eHI Awards 2013 held in London last week.

The Trust has implemented an electronic document management system and portal from CCube Solutions to enable instant access to patient information, improve efficiency, and reduce the costs, security risks and space associated with paper handling and storage.
In addition, the system guarantees case note availability at the point of care, and provides the Trust a powerful tool to review its own performance. For example, a recent audit project involving 600 patients took just two weeks rather than six months to complete because notes were electronic.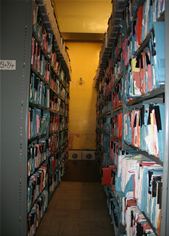 Old records library at Aintree University Hospital
Linda Davidson, director, eHI Insider, said, "Aintree University Hospitals NHS Foundation Trust has figured in the EHI Awards before, so some very good work is going on there. This year was no exception and it was clear that the document management system entered in the category to reward the Best use of IT to support healthcare business efficiency was first class and had been well evaluated."
E-Health Insider (eHI) is a key source of news, comment and analysis about healthcare IT in the UK. It runs an industry-leading portal, publishes newsletters and special reports, brings the e-health community together at EHI Live in Birmingham, and celebrates its successes at the annual EHI Awards in association with CGI.
Aintree is the first NHS Trust to successfully use forms recognition technology, including OCR, to automate the process of recognising pre-printed forms – which make up 95% of the paper file - when digitising records. This ensures contents are correctly indexed even if forms have been incorrectly filed in the physical records. This is in contrast to other Trusts where staff manually go through the paper files prior to scanning to check and order contents.
Most clinical searches in back records are quite specific. For example, to find a previous anaesthetic record of an operation some years before, the technology allows the clinician to find it by clicking on firstly 'forms', then 'anaesthesia', followed by 'anaesthetic record chart' and then lastly selecting the specific one by date.
The notes are always available to clinicians (no missing records at clinic) and accessible 24/7 including from offsite. The system is used by around 3,000 health professionals on a daily basis.
Professor Mike Pearson, consultant physician, says, "It's been hard work but now we've finished the project, we have a solution which is already saving the NHS money. The key innovation is the indexing so that data can be retrieved quickly and easily. This has defeated other projects in the past but we've managed to solve this working closely with our software partner, CCube Solutions. Our system is applicable to any hospital in the country and is a significant contribution to meeting the Government's target of hospitals being paper light. "
Aintree is also the first NHS Trust to successfully work with a third party – Capita Total Document Solutions - using a scan-on-demand approach to outsource the huge task of scanning its records library. Kodak i4000 and i5000 series production scanners and Capture Pro Network Edition imaging software have been used to do this has involved digitising around 282,000 patient files. This equates to some 45 million pages.
The project was driven by the Trust's informatics and records departments and Professor Pearson who led a clinical advisory team. The solution cost £1.5 million.
While the primary driver behind the project was patient safety and care, operational costs will be substantially reduced with the Trust expecting to save £1 million annually by closing its traditional paper library, reducing staff and avoiding the transportation costs associated with moving 4,200 patient files every day around the organisation.
Aintree has also gained 30% additional space a whole floor in a new £45 million building which is now used for clinical activities not paper storage - a £13.5 million estate benefit. The project took 15 months and was completed on budget and to acceptable timescales.
Professor Pearson concludes, "Trusts must recognise that projects like this involve more than just buying a software package. It's implementing a system to process and digitise all your records while at the same time teaching staff how to manage them in the electronic new world. This must be done while keeping the service operational, so it's rather like changing an engine on an aircraft while it's flying."
This is the fifth time the project has been recognised as being innovative. Aintree University Hospital NHS Foundation Trust has also won 'Gold project of the year 2012' at Document Manager magazine's annual awards scheme, and was shortlisted in the enterprise project of the year category at the Techworld Awards 2012. Aintree also received highly commended in the UK IT Industry Awards 2012. In July 2013, it won public sector project of the year at Computer Weekly's European User Awards for Enterprise Software.
Vijay Magon, CCube Solutions' managing director, says, "Scanning of medical records has been going on for years but it's not enough to just digitise them. Given clinicians, nurses and records staff all have to access them, what's important is delivering this information based on some-one's role in way that's easy to navigate in just two or three clicks. This is what we've delivered for Aintree and range of other Trusts based on 20 years experience working in the NHS."
- ENDS -
About CCube Solutions
CCube Solutions is an award-winning provider of enterprise content management (ECM) solutions, comprising electronic document and records management, workflow, electronic forms, portal software, and systems integration.
Founded in 1995, it has a proven track record working with the police, local government, National Health Service and in the private sector providing cost effective and scalable solutions, tailored to meet the individual requirements of customers.
An AIIM Advisory Board member, CCube Solutions is active in developing and guiding the future direction of the ECM industry, and upholds AIIM's principles of good information management, know-how applied on every customer engagement.
CCube Solutions is headquartered in Milton Keynes, and is the trading name of OITUK Limited. For further information, please visit www.ccubesolutions.com
For further information, please contact
Tom Herbst
Tom Herbst PR
T:07768 145571
Email: tom@tomherbstpr.co.uk