Bracknell, UK. 5th September 2017: European cargo airline West Atlantic is transforming life for aviation crew, who formerly used pen and paper to keep on top of logistics, by equipping them with Panasonic Toughpad FZ-G1 rugged tablets. The result is a better and more efficient working day in the form of saved time, increased user-friendliness and better overview.
The Panasonic Toughpad FZ-G1, which is approved for Electronic Flight Bag (EFB) use in the aviation industry, will be used in this capacity by West Atlantic. EFB's are designed to replace paper-based reference materials often found in the pilot's carry-on flight bag, including the aircraft operating manual, flight-crew operating manual and navigational charts. In addition, the EFB can host purpose-built software applications to automate other functions normally conducted by hand, such as performance take-off calculations.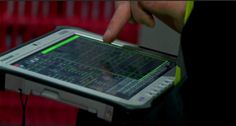 Panasonic Toughpad FZ-G1
"One of the most important criteria in selecting a solution was to find a unit that could withstand a blow, as conditions can get rough," said Magnus Klasson, Operations Manager at West Atlantic. "Units often get dropped during loading and unloading. Therefore, we cannot use technology that is going to get damaged. In this regard, the Panasonic Toughpad FZ-G1 is perfect for us. It is robust and can be used in all types of weather, come rain or shine," he explains.
Easier checking of loads
West Atlantic will deploy two Panasonic Toughpad FZ-G1 tablets per aircraft, one for each of the two pilots on board, with the aim of reducing the amount of physical material on board, such as critical manuals and security papers. Several operations that were previously very time-consuming, in terms of the volume of physical materials, have now been digitised. For example, the technology has made it easier to check loads and adjust the temperature on the aircraft correspondingly.
"With the Panasonic Toughpad FZ-G1, the cargo is secured with only a few finger taps. The information is updated without any physical papers having to travel by air or ground. We have thereby essentially eliminated the use of paper. Which is also good for the environment," says Magnus Klasson.
Ideal for air travel
The Panasonic Toughpad FZ-G1 is an ideal cockpit companion for aircraft flight crew, with its 10.1" touchscreen display, information is clearly viewable and the screen brightness can be adapted down to 0.5 nits for night flight viewing and up to 960 nits for use in bright sunlight.
Watch the film that shows how Toughpad FZ-G1 has simplified the normal working day for employees at West Atlantic here: https://youtu.be/1CCHHxehtiY
Press contact:
Michael Bartley
The Amber Group
michael@ambergroup.net
+44 (0)118 949 7750
About Panasonic System Communications Company Europe (PSCEU)
Panasonic System Communications Company Europe's (PSCEU) goal is to improve the working lives of business professionals and help their organisations' efficiency and performance through world leading technology. We help organisations capture, compute and communicate all sorts of information: image, voice, and textual data. With around 350 staff, engineering design expertise, global project management capability and a large European partner network, PSCEU offers unrivalled capability in its markets.
PSCEU is made up of six product categories:
Broadcast & ProAV offers high quality products and solutions to ensure smooth operation and excellent cost-performance to end-users in the areas of remote camera solutions, switchers, studio camera solutions and ENG P2. The VariCam line-up of professional digital video cameras are capable of true 4K and High Dynamic Range (HDR) which makes them the ideal solution for cinema, television, documentary and live event production.
Communication Solutions offer world leading communication solutions including professional scanners, telephony systems and SIP terminal devices.
Computer Product Solutions help mobile workers improve productivity with its range of Toughbook rugged notebooks, Toughpad business tablets and electronic point of sales (EPOS) systems. As European market leaders, Panasonic Toughbook had a 67% revenue share of sales of rugged and durable notebooks and Panasonic Toughpad held a 56% revenue share of sales of rugged business tablets in 2016 (VDC Research, March 2017).
Industrial Medical Vision provides applications for various segments such as medical, life science, ProAV or industrial. The product portfolio includes complete and OEM micro camera solutions. End-users, system integrators or distributors can choose from a range of full product solutions and component vision technology.
Security Solutions, including video surveillance cameras and recorders, video intercom systems and intruder alarms.
Visual System Solutions, including projectors and professional displays. Panasonic offers the widest range of Visual products, and leads the European high brightness projector market with a 37.20% market revenue share (Futuresource >5klm (FY16 April 2015 - March 2016, excl. 4K & digital cinema).
About Panasonic
Panasonic Corporation is a worldwide leader in the development of diverse electronics technologies and solutions for customers in the consumer electronics, housing, automotive, and B2B businesses. Celebrating its 100th anniversary in 2018, the company has expanded globally and now operates 495 subsidiaries and 91 associated companies worldwide, recording consolidated net sales of Euro 61.711 billion for the year ended March 31, 2017. Committed to pursuing new value through innovation across divisional lines, the company uses its technologies to create a better life and a better world for its customers. To learn more about Panasonic: http://www.panasonic.com/global