Chart topper Aloe Blacc invites fans to remix his brand new song Tonight Downtown
London July 29th 2011 - Tanqueray gin and Aloe Blacc (I Need A Dollar) are inviting music fans to create their own mixes of the soul singer's exclusive new track Tonight Downtown which has been inspired by Tanqueray London Dry and captures the excitement of the first drink of the night.

Following the huge success of Aloe's global hit single, I Need A Dollar, which inspired many fans to make and share their own versions online, Tanqueray and Aloe Blacc are calling out to the public to do the same with his latest track, Tonight Downtown. Fans can use the original session files from the recording to create their own interpretations. Aloe Blacc will review all submissions and choose his favourite to be announced online.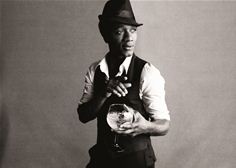 Aloe Blacc
The newly penned song took influence from Aloe's experience of the shift between finishing a hard day's work to the excitement of sharing the first drink of the night with friends. With Aloe's honeyed tones riding over the drums, bass and saxophone, Tonight Downtown delivers a soulful soundtrack to the start of the night.
Tonight Downtown will be available as a free download as part of an interactive film released Thursday 28th July 2011. The interactive film hosted on www.tanqueray.com will allow the public to progress through levels to unlock rewards as they go.
Aloe Blacc says: "I am very happy to partner with Tanqueray to deliver new music to my fans. It will be exciting to see how people take the elements of Tonight Downtown and make something new. I can't wait to hear what folks come up with."
Victoria Olivier, spokesperson for Tanqueray said, "Tonight Downtown encapsulates the start of a night and we are excited to have Aloe Blacc as an ambassador for Tanqueray. It's important to start the night with a perfect drink and now we can add some great music into the mix."
Aloe Blacc joins The Wire's infamous Idris Elba (Luther, Thor), cult Hollywood actor Michael Pitt (Boardwalk Empire, Funny Games) and supermodel-turned-singer Karen Elson as part of, 'Tonight We Tanqueray' - a global campaign dedicated to encouraging the public to start their night right.
As with every Diageo campaign, people will be reminded to enjoy their night responsibly by drinking in moderation.
-Ends-
Notes to editor:
About TANQUERAY London Dry gin
TANQUERAY London Dry Gin is a dry, crisp, gin with a rich juniper flavour. Known for its iconic green bottle and red emblem, TANQUERAY London Dry Gin is the number one imported gin in the United States and is one of the world's most award-winning gins. TANQUERAY London Dry gin, TANQUERAY No. TEN gin, TANQUERAY RANGPUR gin and TANQUERAY STERLING vodka together create the renowned portfolio of TANQUERAY spirits, where perfection and craftsmanship maintain a history that reaches back 175 years. Additional information about the TANQUERAY brand may be found at http://www.tanqueray.com/.
The TANQUERAY, TANQUERAY NO. TEN, TANQUERAY RANGPUR, TANQUERAY STERLING and TONIGHT WE TANQUERAY words are trade marks. © Charles Tanqueray & Co. 2011
About Diageo
Diageo is the world's leading premium drinks business with an outstanding collection of beverage alcohol brands across spirits, beer and wine. These brands include JOHNNIE WALKER, CROWN ROYAL, J&B, WINDSOR, BUCHANAN'S and BUSHMILLS whiskies, SMIRNOFF and CÎROC vodkas, BAILEYS, CAPTAIN MORGAN, TANQUERAY and GUINNESS.
Diageo is a global company, with its products sold in more than 180 countries around the world. The company is listed on both the New York Stock Exchange (DEO) and the London Stock Exchange (DGE). For more information about Diageo, its people, brands, and performance, visit us at Diageo.com. For our global resource that promotes responsible drinking through the sharing of best practice tools, information and initiatives, visit DRINKiQ.com.
Celebrating life, every day, everywhere
For more information, please contact Jo Seymour-Taylor or Christian Dente on 0207 025 7500, or email jo.seymour-taylor@grayling.com