Festive Pinterest boards on display from US retailers such as Walmart and QVC
New York - December 12, 2013 - Amazon.com is the most popular US online retail site when it comes to having web content shared on Pinterest, the pin-board style social network, in the run up to Christmas 2013. In a study of ten top US retail sites[1], images and pages from Amazon.com are being shared most frequently on Pinterest, with Walmart and Apple taking second and third positions respectively.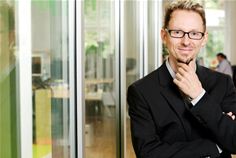 Marcus Tober, Searchmetrics
Content from Amazon.com currently generates the highest average number of pins (shares) per week[2] (16,360) on Pinterest, followed by Walmart.com (5,778) with Apple.com (3,871) taking third place. The findings come from a study by digital marketing software and services specialist, Searchmetrics.
In total 1,740,314 links to content on Amazon.com were found to have been pinned (shared) by Pinterest users at the time of the study (w/e November 29, 2013). Apple.com had received a total of 1,111,959 pins[3], followed by Walmart.com with a total of 529,992 pins identified.
Pinterest, the three year old social network, which is reported to have 70 million users, lets users collect pictures, articles and other primarily visual, online information on virtual pin boards which they can share with their friends and followers on the site. It can act as a virtual shop window for retailers, enabling people to share images and videos of products they like. This creates multiple advantages which work together to positively impact retail sales; Pinterest introduces consumers to retail products they may not be aware of; pinned content acts as a powerful recommendation from people's connections on the site; and the site drives traffic back to specific product pages on retailers sites (because each pin links back to the original web page where the content can be found).
To make it easier for people to share their online content, all of the ten retail sites in the study were found to have set up their own official Pinterest pages[4] although the sears.com Pinterest page currently appears to be inactive with no content actually uploaded to the virtual 'boards' that have been created. QVC.com, led the way, with the highest number of Pinterest followers, with 42,683 compared to Walmart.com with 33,337 followers.
Many retailers have set up festive Pinterest boards and promotions to generate interest in their products in the Christmas run up. Walmart.com has set up ten separate holiday boards, covering entertaining, baking, gifts, dressing the tree and festive decorating. These include pins of festive content from other sites, including recipes and make up tips from shoppers' own blogs, as well as promoting stock from its own site. Other notable pin boards included a selection on Office Depot's Pinterest page sharing content about the boy band One Direction, which the brand is partnering with to campaign against bullying.
"Pinterest provides a powerful way of sharing content that increases engagement and helps retail brands develop closer relationships with their customers. While Amazon.com leads the way due to its strong online presence, retailers such as QVC seem to be investing heavily in using Pinterest to connect with consumers," explained Marcus Tober, CTO and founder of Searchmetrics, which collects weekly data including an analysis of links shared on Pinterest and other social networks as part of its search and social analytics software.
"Successful use of Pinterest is not just about pushing your own content but being social and trying to share content that your followers on Pinterest might find useful or entertaining – even if it doesn't produce a sale for you. Walmart seems to be particularly good at this, explaining why it has gained a significant number of followers on the social network. We're also seeing retailers starting to get creative by running festive themed Pinterest boards and promotions linking their Pinterest with their other promotional activity such as band sponsorship as well coordinating with their other social channels," added Tober.
The single most pinned piece of content of all the sites in the study was a GEFU Spirelli spiral kitchen cutter on Amazon.com, which has achieved 201,006 pins to date[5]. Other highly pinned content included a bag on Walmart.com for washing and drying your sneakers (171,368 pins), the 101 Things you should do before your kids leave home book on Amazon.com (97,452 pins) and a guide to using camera lens aperture settings from Bestbuy.com, which has amassed 24,267 pins.
"Most retail sites seem to have one or two pieces of content that have essentially gone viral, and been pinned and repinned thousands of times. But this is the exception. In general most of the content from most retailers' sites is pinned fewer than a hundred times," added Tober.
-ends-
[1] Source: The list of the ten of US retail sites included in the study is based on the top ranking sites listed in the Wall Street Journal/Internet Retailer (August 2013)
http://regmedia.co.uk/2013/08/29/amazon_chart.jpg.
[2] The average weekly pins per week is based on pins per week shared over the previous four weeks.
[3] At the time the research was conducted, it was found that 1,302,018 pins were generated from the Apple iTunes website page (http://itunes.apple.com/us/app/photo-uploader-for-pinterest/id510721334?mt=8) where consumers can download the Pinterest for iPad app. It was assumed that these pins are automatically generated without user involvement so they have not been included in the total.
[4] The pins (or shares) of web page URLs analyzed in Searchmetrics' study are those pins that users of Pinterest share on their own Pinterest boards. They are not the same as - and do not rely on - the pins being shared by retailers themselves on their own Pinterest boards (if they have them).
[5] Figures as of w/e November 29, 2013
About the Searchmetrics study
The data for the study was collated in w/e November 29, 2013. It included an analysis of Pinterest activity for the 10 US retailer web sites using data from the global social media database which Searchmetrics operates to power its online software tools. This is a regularly updated store of data points related to web sites and their visibility on social networks. The average pins per week data is based on data for the preceding eight weeks. The study also included an analysis of the Pinterest pages of retailers. The list of retailers analyzed in the study was based on the top 10 list from the Wall Street Journal/Internet Retailer (August 2013) http://regmedia.co.uk/2013/08/29/amazon_chart.jpg.
About Searchmetrics
Searchmetrics is the pioneer and leading global provider of digital marketing software and services. It operates the Searchmetrics Suite™, an innovative, interactive online marketing platform for companies and online agencies. With its "Analyze ‒ Optimize ‒ Succeed" philosophy for online marketing, the company offers a holistic consulting approach to helping companies and online agencies develop and execute intelligent, long term digital marketing strategies.
The company's flagship Searchmetrics Suite™ platform helps customers to define their individual business goals ‒ such as increased ROI ‒ and achieve them by delivering customized insights, forecasts, and recommendations. It provides detailed analysis and data in SEO, social media and mobile to create a solid foundation for cross-channel digital marketing campaigns. The Searchmetrics Suite™ allows users to shape the own online visibility and differentiate themselves from, potential competitors. Through individually scalable traffic and revenue forecasts and simulations, customers can identify how and where they need to develop their online presence, take appropriate action and track their performance against their goals.
The company has offices in Berlin, London, Paris and New York and operates its SaaS software through a network of partners and an online shop. The fast-growing company currently has more than 100 employees. It is backed by the renowned venture capitalist companies Neuhaus Partners and Iris Capital. Many respected brands, such as T-Online, eBay, Siemens and TUI rely on Searchmetrics to ensure they have excellent visibility through intelligent online marketing strategies.
Media Contact
Uday Radia
CloudNine PR Agency
uradia@cloudninepr.com
+44(0)7940 584161