Study released as big-data marketing company BloomReach launches in the UK
It finds a staggering mismatch between consumer and marketer attitudes to personalisation – and it's not what you think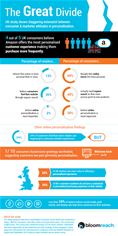 Infographic
30 September, London: Amazon sets the standard for retailers in offering a personalised experience for its customers, according to a study launched today by personalised discovery platform company, BloomReach. The research, conducted by RedShift Research, highlights the growing technology gap between the retailing giant and the rest of the e-commerce landscape. UK marketers greatly underestimate the importance of personalisation to UK consumers. The study was commissioned as BloomReach, a company whose big data applications adapt consumer shopping experiences to ensure businesses deliver their most relevant content to each visitor across channels, launches in the UK.
Raj De Datta, co-founder and CEO of BloomReach said: "There is clearly a gap between what UK consumers are looking for in an online experience and what UK retail brands think consumers are looking for. Amazon has raised the bar in customer experience and the challenge is for retailers across the world to try to match that. The good news is that consumers are more open to competitor brands, placing little value in brand reputation but a lot of importance in the experience. Marketers need to recognise that brand reputation is not as important as they think it is and focus more on improving customer experience."
The 2014 Consumer and Marketer Personalisation Study from BloomReach explores UK consumer and industry attitudes toward online personalisation features such as product recommendations, intuitive search results, relevant content and ease of navigation. The study sampled 1,000 UK consumers and 122 UK online retailers. Highlights include:
Amazon leads the way while other online retailers underestimate the importance of online experience to consumers
82 percent of UK consumers said that no company offers the same levels of web-personalisation as Amazon
34 percent of retailers said they thought that brand reputation was the most important factor when consumers choose a retailer and just 2 percent thought that personalised shopping experience was an important factor
However, 31 percent of consumers said they would be more likely to make purchases if they were offered personalised experiences such as product recommendations or tailored content and 85 percent said brand reputation was not an important factor
59 percent of consumers believe that online experiences are more unique to their needs; however, 80 percent of retail marketers disagreed with this, saying that online could not offer a more personal experience.
BloomReach launches in the UK
BloomReach formally launches today in the UK after working with top US companies such as Staples, Guess and Williams-Sonoma. It is already helping top UK ecommerce sites such as Wayfair, StubHub, Boden, Forever 21 and Lakeland harness customer data to transform their websites and content into intelligent, automatically updating experiences. On average, BloomReach sees more than 20 percent lift across UK customers. In the U.S., BloomReach works with 24 of the U.S. Internet Retailer Top 100 companies and 100 other companies.
Founded by Raj De Datta, a Silicon Valley entrepreneur and former director of product marketing at Cisco and Ashutosh Garg, a former Google data scientist, BloomReach uses machine-learning and natural-language processing to determine consumer intent and match it to an online retailer's content. Through this, BloomReach transforms websites, mobile sites and apps into intuitive personalised experiences for each consumer, processing more than 150 million web pages and one billion consumer interactions a day. Gartner predicts that by 2018, companies that have fully invested in all types of online personalisation will outsell those that do not by more than 30 percent.
BloomReach also launched today, the industry's first machine-intelligence tool that guide merchants and search marketers on key content decisions. BloomReach Compass provides a user portal for retailers to optimise their sites. The portal uses BloomReach's deep content understanding to recognise opportunities to improve user experiences and boost sales through site data.
ENDS
About BloomReach
The BloomReach Personalized Discovery Platform makes your content and products more discoverable with applications for organic search, site search and digital marketing and merchandising. BloomReach's core technology – the Web Relevance Engine – uses natural-language processing and machine-learning to algorithmically understand content and visitors, matching it with demand and intent data from across the web.
Created in 2009, BloomReach is headquartered in Mountain View, Calif. with offices worldwide and has raised $41 million to date from investment firms Bain Capital Ventures, NEA and Lightspeed Ventures. BloomReach's portfolio of customers includes Neiman Marcus, Sears Outlet, Kohl's, Staples, Drugstore.com and Williams-Sonoma. Learn more: www.bloomreach.com.
About the study
The study combines data from a quantitative consumer survey which was conducted among 1,000 UK consumers, who shop online to at least some extent. The second was a B2B survey. This survey was conducted among 122 UK online retailers. Individuals who were responsible for the marketing and sales strategy of their company's online shop were interviewed.
The interviews were conducted online by Redshift Research in August and September 2014 using an email invitation and an online survey.