Robert Stewart, Business Solutions Manager of AmicusHorizon (member of the London G15), has been appointed as the new Chair of the 1st Touch User Group. His appointment is a reflection of his considerable awareness of 1st Touch's enterprise mobile workforce software. Working with 1st Touch, AmicusHorizon has developed solutions for repairs, health & safety inspections, voids, lettings, income management and antisocial behavior (ASB) visits. AmicusHorizon is also currently implementing 1st Touch's 360 dashboard application.

As Chair of the User Group, Robert has some clear objectives for the evolving role that he can play. Robert says, "I'm keen to share knowledge and solutions and collect feedback. We need the user group to be more than a focus group. This will be a positive influence on product, service and solution development. Collaborating ideas and sharing best practice is beneficial to all. The good news is there does already seem to be some exciting solutions to share!"
For his part, Greg Johns CEO of 1st Touch, welcomed Robert's appointment noting, "Robert brings with him an unrivalled knowledge of mobile and related technology in the social housing sector as he's seen 1st Touch software at work in the context of a G15 member. His personal feedback to date has been excellent, so it is an entirely natural development that he should be the new Chair of the User Group. With Robert at its helm we expect that all members will gain a great deal and that there will be plenty of excellent suggestions to incorporate into our future product planning."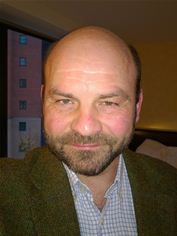 Robert Stewart
If you are a 1st Touch customer and you'd like to attend the next 1st Touch User Group, please contact Cherry Rance at info@1sttouch.com for details.
Note to Editors:
About 1st Touch
Southampton based 1st Touch, a subsidiary of Aareon AG (www.aareon.com), has enabled dozens of field workforce-based organisations to embrace new mobile technologies and so achieve significant savings, greater productivity and more cost-effective use of resources. 1st Touch Mobile delivers clear and unique benefits: These include the system's acclaimed 'Smart Airtime' feature where 'airtime' is minimised and the system is always available with or without 'airtime'. The system's flexibility through simple customer control over forms creation and amendment is also widely acclaimed. There is Integration to multiple back office and other enterprise software applications, so that data is entered only once.
With its widely acclaimed mobile technology, 1st Touch has a clear focus on the Social Housing and Local Government markets. Many social housing providers and local authorities, at large, now benefit from the fast and tangible, best of breed benefits that 1st Touch mobile technology delivers to the enterprise.
To date, over 50% of the social housing market, which has deployed mobile technology, has chosen to implement 1st Touch. In local government, 1st Touch has already been adopted for a wide range of mobile workforce uses. Ready to use applications for local authority organisations include: Public Buildings, Highways/Street Services, Environmental/Waste Management, Revenues and Benefits, together with Planning Control and Trading Standards.
1st Touch software is available on a wide variety of platforms including: Windows Mobile,
Apple and Android.
About AmicusHorizon
AmicusHorizon is one of the largest housing associations in South East England, with just under 28,000 homes in Kent, Sussex and London.

We're determined to tackle the housing crisis and are proud to be delivering over 800 new homes between 2015 and 2018. And we're in a strong position to do this - with assets of £1.3 billion, an annual turnover of over £161 million and reserves that total £90 million.

We're also part of the g15, which is made up of the 15 largest housing associations in London.

But there's more to us than just bricks and mortar. We've a strong desire to positively shape communities, helping to create places people are happy to call their home.
For further information on 1st Touch please contact:
Cherry Rance
1st Touch
02380 111206
cherry.rance@1sttouch.com
www.1sttouch.com
or
Leigh Richards
The Right Image PR & Marketing Group
07758 372527
leigh.richards@therightimage.co.uk
www.therightimage.co.uk