The Scottish based fast-fashion brand will use the Amplience platform to deliver agile, on-trend campaigns and seamlessly served content
London, UK, 13 February 2019 – Amplience, the leading Content Management Solutions provider, announces it will be working with fast-fashion retailer QUIZ to deliver a mobile optimized shopping experience.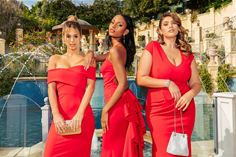 Amplience partners with QUIZ to improve customer experience and campaign velocity
With 30 per cent of sales now online, online is the fastest growing part of the QUIZ business. Following rapid growth in mobile traffic over the past few years, further investment in digital is focused on improving and optimizing the production, management and delivery processes.
And with mobile now accounting for 80 per cent of total online traffic, optimising this channel for conversion is the key to delivering continued success. As such, QUIZ was seeking a partner that could improve the load speed of content, without compromising on visual quality.
After an extensive vendor selection process, QUIZ chose to implement the Dynamic Media and Content Hub solutions from Amplience.
Haroun Saleemi, Head of Ecommerce at QUIZ, said: "As a trend-led fast fashion brand, achieving a high velocity of content is essential to success. We buy close to the season to ensure our customer has access to the latest trends. This means there is only an average of 4 to 8 weeks' lead time for a campaign. Amplience will ensure that the creative and merchandising teams have all content at their fingertips. We hope this will empower our content team to be even more creative, and to ensure that the experience is properly optimised for mobile customers."
The implementation of Amplience is expected to improve the efficiency and productivity of the content team at QUIZ by reducing manual tasks through automation. In addition to this, sales conversion will be improved with optimized imagery to improve site performance across mobile and web.
James Brooke, CEO at Amplience, remarked, "We're delighted to be partnering with QUIZ to help to improve performance. For fast-fashion brands with a millennial customer base, that comes by improving the speed and quality of the mobile shopping experience."
The new QUIZ website using Amplience's Dynamic Media and Content Hub solutions will go live in March 2019.
###
About Amplience
Amplience dramatically simplifies how clients plan, create, manage, and deliver content.
With a modern API-first approach, the Amplience solution can unleash the creativity and productivity of content and technology teams.
Amplience serves more than 200 of the world's leading retailers including Otto.de, Crate and Barrel, Boohoo, Mulberry, Shop Direct, and TUMI.
For more information on the Amplience solution, please visit www.amplience.com.
About QUIZ
QUIZ is an omni-channel fashion brand, specialising in occasion wear and dressy casual wear.
QUIZ delivers a distinct proposition that empowers fashion forward customers to stand out from the crowd.
QUIZ's buying and design teams constantly develop its own product lines, ensuring the latest glamorous looks at value prices. This fast, flexible supply chain, together with the winning formula of style, quality, value and speed-to-market has enabled QUIZ to grow rapidly into an international brand with more than 300 standalone stores, concessions, franchise stores, wholesale partners and international online partners.
QUIZ operates through an omni-channel, fast fashion business model, which encompasses online sales, standalone stores, concessions, international franchises and wholesale arrangements. As of 5 January 2019, QUIZ had 71 stores and 169 concessions in the UK.
For further information:
https://www.quizclothing.co.uk/ or http://www.quizgroup.co.uk/