Edinburgh, UK – 29th August, 2017: Axios Systems, one of the world's leading providers of IT Service Management (ITSM) and IT Asset Management (ITAM) solutions, is proud to announce the recent appointment of Andreas Hudson as its new Head of Global Marketing.
Hudson takes over responsibility for Axios' global marketing functions including marketing strategy, brand development, and marketing communications. Hudson, who has 20 years' experience in marketing, sales and finance across various industries, is part of Axios' strategic move to appoint new leadership throughout various departments.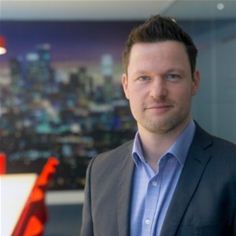 Andreas Hudson
A passionate customer advocate and technology evangelist, Hudson has previously held various management roles throughout Europe and Australia and brings a wealth of knowledge and experience alongside an MBA from the Justus-Liebig University in his native Germany.
Tasos Symeonides, CEO at Axios Systems said: "Andreas is a vital addition to our leadership team and has proven experience in growing technology businesses through integrated marketing strategies and strong customer focus. We are delighted to have filled yet another important position at Axios Systems to strengthen Axios as a global business and leader in its space."
Commenting on his appointment, Andreas Hudson, Head of Global Marketing at Axios Systems said: "I am excited to join Axios Systems as an innovative leader and am ready to take on the challenge of growing Axios's share within the ITSM/ITAM space as well as combining my passion for technology and for marketing to create an outstanding customer journey and experience.
"I am very much looking forward to putting my strategic marketing expertise into practice and fulfil my future vision for the firm."
Hudson is the latest senior management figure to be appointed at Axios Systems, following the arrivals of Wendy Ellen (Head of Global HR), Gary Lessels (Global Consultancy Services) and Chris Rydings (CTO) in recent months.

-ENDS-

About Axios Systems
For almost 30 years, Axios Systems has been committed to delivering innovative IT Service Management (ITSM) and IT Asset Management (ITAM) solutions that help customers not only improve their infrastructure operations, but also enhance service delivery across business functions, including HR, Facilities Management and Finance. Axios is recognized as a world leader by leading analysts and their global client base, with a 100% focus on service management technologies.
Axios's ITSM and ITAM software solution, assyst, is purpose-built to transform IT departments into profitable business-focused customer service teams. assyst adds tangible value to each client's organization by building on the ITIL® framework to help solve their business challenges.
assyst is accredited for all 16 PinkVERIFY™ ITIL® processes, and Axios was the first vendor to achieve this within a single solution.
For more information, please visit our website at http://www.axiossystems.com

For further information, please contact:
Axios Systems
Press/PR
Stephen Brunsdon
Email: Stephen.Brunsdon@axiossystems.com
Phone: +44(131) 220 4748