Andy Quin, Business Planning and Invention Director at Mindshare has been hired by Euro RSCG London to take up the role of Senior Planner.
He will be working across Euro RSCG London's clients including Peugeot.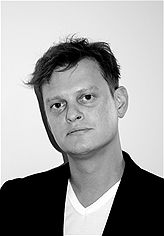 Andy Quin
The hire further strengthens Euro RSCG London's planning capabilities; Russ Lidstone, the agency's CEO is an ex-planner - making Euro RSCG one of few agencies with a strategist at the helm.
Andy has defined global brand strategies for Nike and Diesel, and previously worked at Michaelides & Bednash where he won a Campaign Media Award for his innovative thinking on Channel 4. Before that he was a Strategy Director at Naked Communications.
"Andy is a unique planning combination - he grew up in brand planning, moved over to communications and is able to combine rigorous strategic thinking with creative flair. " said Rebecca Moody, Head of Planning at Euro RSCG London.
Andy Quin said "Euro RSCG has a unique and exciting planning culture where planning is a collaborative and ongoing activity rather than the usual rigid and static start-point that still seems to be prevalent in our industry today".
About Euro RSCG London:
We are a top five UK integrated communications agency with a client roster including Air France, Alberto Culver, Chivas Regal, Citroën, CityJet, Comet, Credit Suisse, Dulux, Disneyland Paris, EDF Energy, Evian, Kraft, Nutricia, Mateus, Peugeot, Reckitt Benckiser, and Yakult.
Euro RSCG London includes Euro RSCG PR (formerly Biss Lancaster) and we are the biggest UK agency to integrate conversational media into the core of the agency, alongside channel strategy, digital, Social Media and advertising. We also have offices in Manchester and Edinburgh.
Euro RSCG London is part of Euro RSCG Worldwide, a leading integrated marketing communications agency made up of 233 offices in 77 countries throughout Europe, North America, Latin America and Asia Pacific. Our ambition is to help clients get to the future first.
Euro RSCG contact details
Website – www.eurorscglondon.co.uk
Twitter - @eurorscglondon
Facebook – EuroRSCGLondon
To speak to someone
Head of Agency PR – Sarah Van Praagh 07974 217 812