Below is a summary of the level of malicious programs targeting the Android platform during spring and early summer 2012. The number of new malicious programs targeting the Android platform has almost trebled in the second quarter of the year, according to figures from Kaspersky Lab's Q2 report on IT threat evolution. Over the three months in question, over 14,900 new malicious programs targeting this platform were added to Kaspersky Lab's database.
These statistics demonstrate that virus writers are increasingly focusing on developing malicious programs for mobile devices.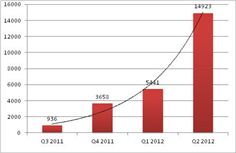 The number of malware modifications targeting Android OS
Classification of Android Trojans
Nearly half (49 per cent) of these malicious files targeting Android devices were multi-functional Trojans that steal data from telephones (contact names, email addresses, telephone numbers, etc.), and are also capable of downloading additional modules from servers run by malicious users.
A quarter of the detected Android malware was made up of SMS Trojans. These malicious programs steal money from victims' accounts by sending SMS messages to premium-rate numbers without the owner's knowledge or consent. A couple of years ago, these programs could be only found in the countries of the former USSR, South-East Asia, and China. Today, they are spreading around the world: in Q2 2012, Kaspersky Lab protected users in 47 countries against SMS threats.
18 per cent of Android threats detected in the second quarter this year are backdoors that give malicious users the ability to gain full control over an infected device. These programs are used to build botnets of mobile devices. For now, only a small number of all Android threats are Trojan Spy programs – just 2 per cent of the total. However, these are the malicious programs that pose the greatest threat to users. These programs are on the hunt for the most valuable data that give malicious users access to bank accounts.
"In the near future, we expect not only more malware, but more effective and dangerous malware targeting Android. Judging from existing trends, we should expect that cybercriminals will soon shift to more personalised attacks. This is primarily about malware hunting for confidential data with which to steal money from users' credit cards", said Yuri Namestnikov, Senior Malware Analyst at Kaspersky Lab.
Mobile threats of this kind can be handled with the help of dedicated mobile applications. Kaspersky Mobile Security and Kaspersky Tablet Security, in addition to reliable protection against information theft via malware, also ensure data stays safe even if the device is lost or stolen.
The complete version of the Q2 IT Threat Evolution report is available at www.securelist.com
-ENDS-
Kaspersky Lab Newsroom
Kaspersky Lab has launched a new online newsroom, Kaspersky Lab Newsroom Europe (http://newsroom.kaspersky.eu/en), for journalists throughout Europe. The newsroom is specifically designed to serve many of the media's most common requests, making it easier for journalists to find product and corporate information, facts and figures, editorial copy, images, videos and audio files, as well as details about the appropriate PR contacts.
About Kaspersky Lab
Kaspersky Lab is the world's largest privately held vendor of endpoint protection solutions. The company is ranked among the world's top four vendors of security solutions for endpoint users*. Throughout its 15-year history Kaspersky Lab has remained an innovator in IT security and provides effective digital security solutions for consumers, SMBs and Enterprises. The company currently operates in almost 200 countries across the globe, providing protection for over 300 million users worldwide. Learn more at www.kaspersky.co.uk. For the latest on antivirus, anti-spyware, anti-spam and other IT security issues and trends, visit: http://www.securelist.com/.
*The company was rated fourth in the IDC rating Worldwide Endpoint Security Revenue by Vendor, 2010. The rating was published in the IDC report Worldwide IT Security Products 2011-2015 Forecast and 2010 Vendor Shares – December 2011. The report ranked software vendors according to earnings from sales of endpoint security solutions in 2010.
Follow us on Twitter
www.twitter.com/kasperskyuk
Like us on Facebook
http://www.facebook.com/Kaspersky
Editorial contact:
Berkeley PR
Carolann Grandison
kasperskylab@berkeleypr.co.uk
Telephone: 0118 909 0909
1650 Arlington Business Park
RG7 4SA, Reading
Kaspersky Lab UK
Ruth Knowles
Ruth.Knowles@kasperskylab.co.uk Telephone: 0871 789 1633
Milton Business Park
OX14 4RY, Oxford
© 2012 Kaspersky Lab. The information contained herein is subject to change without notice. The only warranties for Kaspersky Lab products and services are set forth in the express warranty statements accompanying such products and services. Nothing herein should be construed as constituting an additional warranty. Kaspersky Lab shall not be liable for technical or editorial errors or omissions contained herein.