World's first sale will enable fractional ownership of iconic Warhol piece
London, 07 June 2018 - Maecenas, a blockchain platform that democratises access to fine art, and Dadiani Syndicate, the first fine art gallery in the UK to accept cryptocurrency payments for collectibles, have selected Andy Warhol's 14 Small Electric Chairs (1980) for the world's first cryptocurrency art auction.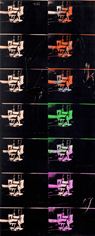 Andy Warhol's 14 Small Electric Chairs
14 Small Electric Chairs (1980) will be listed on Maecenas' blockchain platform on June 20th, 2018. In the auction, Dadiani and Maecenas will make available up to a 49% ownership interest in the painting, which is currently valued at US$5.6m (£4.2m). Buyers will be able to purchase digital certificates on the blockchain representing fractional ownership in the painting using cryptocurrencies such as Bitcoin, Ethereum and the ART token.
The final price for the piece will be determined by a smart contract run on Ethereum, acclaimed as the fairest and most transparent pricing mechanism to date on the blockchain. It is the first time that a work of art from an internationally renowned artist will be sold using blockchain technology.
Marcelo Garcia Casil, CEO of Maecenas, said:
"We're making history. This event marks the first-ever artwork to be tokenised and to be sold using blockchain technology. We are proud to be pioneers in this space - this is the result of many years of hard work. This Warhol is the first artwork of many more to come. We're starting this exciting journey alongside our strategic partner Dadiani, who not only fully supports our vision, but also will play a key long-term role in helping us transform the art market."
Added Eleesa Dadiani, Founder of Dadiani Syndicate:
"For the first time ever high-value, blue-chip art works will be available for everybody to own utilising the unique technology platform developed by Maecenas. You can now own a piece of history! This is not a divisive strategy but a win-win for all. Beyond this, Maecenas and Dadiani are launching the world's largest and first tokenised art fund through the blockchain. This will simplify and expand art investment even further. Our shared vision is being implemented in the most exciting way - now we both look forward to embracing the resulting evolution of art investment."
The reserve price of 14 Small Electric Chairs (1980) is to be set at $4m / £3m. All buyers will be subject to full "know your customer" (KYC) and anti-money laundering (AML) checks that will assure that the purchases are compliant with financial regulations.
14 Small Electric Chairs (1980) is part of Warhol's 1980 Reversal series - a postmodern reworking of his iconic 1960s Death and Disaster Series. The dimensions for 14 Small Electric Chairs are 202.5 x 81.8 cm. It has been exhibited in Zurich, Vienna, Hamburg and Seoul. The work is accompanied by a certificate of authenticity from the Andy Warhol Art Authentication Board in New York. The piece also features a finger swipe that is largely believed to have been made by Warhol's own hand.
Along with Warhol's Campbell's Tomato Soup Can, Green Coca-Cola, Dollar Bill and Marilyn Monroe, the Electric Chair is one of Warhol's most iconic images.
- ENDS -
About Maecenas
Maecenas is an art blockchain platform enabling fractional ownership of artworks. Maecenas leverages blockchain technology to create tamper-proof verifiable provenance and to enable real-time digital settlement of transactions.
Maecenas lets buyers and sellers of art create and manage their own liquid fine art portfolios. Through its platform, art galleries and art collectors can evaluate the value of their existing artworks.
With almost a thousand members, Maecenas has an active community on Telegram (https://t.me/maecenasart).
For more information about Maecenas and our upcoming platform launch, please contact us via Telegram or Twitter.
About Dadiani Syndicate
Dadiani Syndicate is the UK's first luxury marketplace to offer exclusive assets from hyper-cars to crown estate properties that can be bought with cryptocurrency.
The platform operates as a conduit between foreign investors and an extended network of high-value asset classes and high yield investment funds, stimulating foreign investment into the UK using the blockchain. Investors can undertake transactions through a range of cryptocurrencies, including Bitcoin, Ethereum, and Litecoin.
Founded by cryptocurrency economist Eleesa Dadiani, Dadiani Syndicate forms part of the Dadiani portfolio which includes Dadiani Fine Art - a Mayfair fine art gallery that in 2017 became the first art gallery in the UK to accept cryptocurrency in payment.
Contacts:
Maecenas:
Rajah Abli
Montieth & Company
T: +442038651947
E: rabli@montiethco.com
Dadiani:
Jacob Mavrik
M: +447759841863
E: jacobmavrikpr@gmail.com