Single sign-on will enable employees to access multiple applications with one password
8th October 2015 London - 10Duke announces that Rovio Entertainment, the company behind the phenomenally successful Angry Birds brand, is the first customer for the newly released 10Duke Identity Bridge API. The product will enable Rovio employees to access both Microsoft Office 365 and Google Apps for Work applications using a single username and password. The 10Duke Identity Bridge will remove the hassle of signing in separately to each service, making the workforce work more efficiently.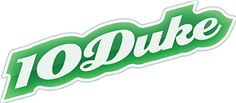 10Duke logo
As well as increasing productivity Identity Bridge will also free up technical resource from internal identity management and help remove the chronic issue of 'IFMP' (I forgot my password).
Rovio's Jukka Kotilainen comments, "The 10Duke Identity Bridge allows Rovio employees to focus on creating great games for our 263 million monthly active users and not worry about logins and passwords!"
The new 10Duke Identity Bridge API is the latest product from 10Duke that was developed in response to the fact that more and more companies are finding that they are having to use multiple office productivity application platforms, each with their own security controls.
"Although companies are increasingly looking to the Cloud to deliver their office productivity applications like Google Docs or Microsoft Office 365, the reality is still that most companies will choose to use a mix of applications from more than one provider in order to meet customer, employee and even supplier preferences. The cloud application providers compete with each other therefore their systems aren't designed to play well together," says Neil Fenton, Chairman of 10Duke.
"The most common issue we see is where a company is using both Microsoft and Google internally. This creates headaches for employees who have to remember yet another email/password combination and IT departments who have to cope with the fall-out. The 10Duke Identity Bridge has been created to address these issues."
The 10Duke Identity Bridge is a web-based API that provides Single Sign-on (SSO) capability for users with a Google ID to seamlessly access both Google Apps for Work and Microsoft Office365 online services without the need to login separately to each service.
(ENDS)
About Rovio
Rovio Entertainment, founded in 2003, is an industry-changing entertainment media company and creator of the globally successful Angry Birds franchise. Angry Birds, a casual puzzle game, became an international phenomenon within a few months of its release and is now the number one downloaded app of all time.
About 10Duke
10Duke is the leading European Backend as a Service (BaaS) provider, helping Enterprise customers manage their challenges of personalisation, permission management and data insight. 10Duke provides a set of cloud-based APIs, including identity as a service, entitlement as a Service and cloud file management.
10Duke technology has been used to create award-winning online applications across a variety of industries including education, construction and media. 10Duke's client list spans a who's who of leading global consumer and technology brands including Rovio (Angry Birds) the Association of Tennis Professionals (ATP), the BBC, Trimble, Unilever, Arsenal Football Club, Maserati, and many more.