Over €4.2m spent on Flexion-enabled content; 3.9 free trials per second enabled; 46 million new registered customers globally
October 2012 – In Q3 2012, Flexion saw €4.2 million spent on mobile apps monetised by its wrapper globally, with consumer spend highest in EMEA at €2.6 million, thanks to the growth in Android devices.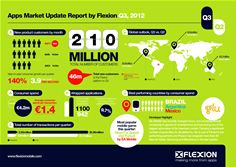 Apps Market Update Report Q3
16 million new consumers joined the platform in September, with 46 million registering in Q3 in total, a year-on-year consumer quarterly growth of 140%. Flexion has now delivered wrapped products to 210 million customers globally. In the last quarter the platform delivered almost 4 free trials per second to users accessing wrapped games and apps.
In terms of numbers of customers the biggest growth region was Latin America, unchanged from the last quarter, with Brazil again the biggest growth country. The best- performing countries, by consumer spend, were Brazil, Argentina and Mexico.
View an infographic of the stats and see the comparison between Q3 and Q2 here:
http://goo.gl/PpQZV
To see the comparison between Q2 and Q1: http://goo.gl/rdvgV
Global outlook:
Total quarterly consumer spend:
Globally: €4.2 million

EMEA: €2.6 million

Americas: €0.9 million

APAC: €0.7 million
Average consumer spend per transaction globally: €1.4
Best-performing countries (by consumer spend):
Brazil

Argentina

Mexico
Biggest growth region (numbers of customers): Latin America
Biggest growth country (numbers of customers): Brazil
Most popular mobile game this quarter: Need For Speed Hot Pursuit by EA Mobile
Customer numbers:
Number of new consumers to the Flexion platform:
Total Q3 2012: 46 million

September: 16 million

August: 15.5 million

July: 14.5 million

Year-on-year consumer quarterly growth: 140%

Cumulative number of customers: 210 million

Number of live Flexion-wrapped titles at the end of this quarter: 1,100
New transactions for Q3 2012:
Premium: 2.8 million

Free Trials: 27.3 million
Conversion rate: 9.7% from try to buy cross-platform and stores
Developer Highlight – Glu Mobile:
Glu Mobile has recently changed its focus, now investing almost exclusively in games for smartphones and becoming one of the biggest advocates of the freemium model. Where it used to be a distant third after EA and Gameloft, Glu Mobile has undergone a successful transformation and changed its profile. Carrying a significant number of great titles for all platforms, Glu is one of Flexion's top performing partners and Flexion has wrapped more than 60 titles for Nokia, Samsung and Blackberry in the last quarter.
Flexion for Developers:
For developers looking to increase conversion rates and protect content against piracy – a growing problem for Android developers – Flexion's wrapper technology offers secure one-click operator billing in 70 markets and in-built licensing. Rather than adding additional billing SDKs to their game code, the Flexion wrapper automatically enables in-app billing for products. The wrapper also enables virtual currency and content discovery via Discovery, an on-device portal, which promotes more games to customers.
Ends
About the Flexion Market Update
The Flexion Market Update is published quarterly. Aimed at developers, the report gives them an overview of the latest trends in mobile game and app development which they can incorporate into their development and financial strategies, as well as providing transparency into the growth of Flexion's Android and Java wrapping technology.
About Flexion Mobile
Flexion is a leading mobile app monetisation solution. Its wrapper solutions allow developers to overcome the four main issues in the market for mobile games and apps: fragmentation, weak monetisation, lack of discovery and poor viral distribution models. The Flexion wrapper enables global payments, ad-funded monetisation and on-device content discovery without requiring the developer to repurpose their code. Wrapping is automated and the wrapper can be applied to any game or app. Flexion is used globally by millions of end-users across thousands of products by hundreds of developers and some of its partners are the biggest names in mobile, including OEMs such as Nokia, operators such as Orange Group and publishers like EA Mobile.
For further information please visit: http://flexionmobile.com/
Press Enquiries
Kate Gordon
Joshua PR
Kate.gordon@joshuapr.com
+44 7980 921961