€4.5m spent on Flexion-enabled content; 4.3 free trials per second enabled; 48.5 million new registered customers globally
January 2013 – In Q4 2012, mobile app monetisation and discovery platform Flexion saw €4.5 million spent on apps monetised through its wrapper globally, with consumer spend highest in EMEA at €2.2 million, thanks to a strong demand for new Android devices leading up to Christmas.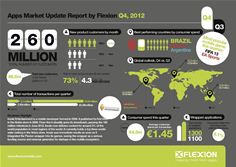 Q4 2012 infographic
In the last quarter of 2012, 48.5 million new consumers joined the platform, a year-on-year consumer quarterly growth of 73%. 17.5 million of those consumers joined in December, and Flexion experienced its strongest week ever over the Christmas period with sales and traffic up by 20% compared with November. Flexion has now delivered wrapped products to 260 million customers globally, enabling more than 4 free trials per second to users accessing wrapped games and apps.
Latin America was again the biggest growth region in terms of number of customers, unchanged from the last quarter, with Brazil and Mexico the biggest growth countries. The best-performing countries, by consumer spend, were Brazil, Mexico and Argentina. During Q4 2012, mobile subscribers in Brazil grew by 20 million, taking the total number of Brazilian mobile subscribers to 262 million in 2012.
View an infographic of the stats and see the comparison between Q4 and Q3, 2012, here: http://goo.gl/UlMbR
Flexion's focus in the first two quarters of 2013 will be its 3.0 release of the Android wrapper. With Android gaining in dominance in the apps marketplace, the new version of the wrapper will be a significant upgrade and will be HTML-based.
The new wrapper will feature most available methods of monetisation including free-to-play ad-funded models, offer walls and premium. It will also provide improved discovery features, including search, cross-promotion and advertising, as well as Facebook integration.
Global outlook – Q4, 2012:
Total quarterly consumer spend:
Globally: €4.5 million
EMEA: €2.2 million
Americas: €1.5 million
APAC: €0.8 million
Average consumer spend per transaction globally: €1.45
Best-performing countries (by consumer spend):
Brazil
Mexico
Argentina
Biggest growth region (numbers of customers): Latin America
Biggest growth countries (numbers of customers): Brazil and Mexico
Most popular mobile game this quarter: FIFA 13 by EA Mobile
Customer numbers:
Number of new consumers to the Flexion platform:
Total Q3, FY 2012/2013: 48.5 million
o December: 17.5 million
o November: 16 million
o October: 15 million
Year-on-year consumer quarterly growth: 73%
Cumulative number of customers: 260 million
Number of live Flexion-wrapped titles at the end of this quarter: 1,300
New transactions for Q3, FY 2012/2013:
Premium: 3.1 million
Free Trials: 33.9 million
Conversion rate: 9.1% from try to buy cross-platform and stores
Developer Highlight – Inode Entertainment:
Inode Entertainment (http://www.inodesoft.com) is a mobile developer that started out in 2006 at the same time as the development of mobile app stores. Jaime Enriquez, founder and CEO, saw great potential in the mobile ecosystem and developed some of the early development tools used by the company in early 2008. Inode published its first titles in the Nokia store in 2009. The Nokia store offered developers the greatest opportunity to not only reach a large number of users, but also because it enabled content to be distributed at a range of prices. In late 2010, Inode had reached one million downloads in the Nokia store, and less than a year later, it hit the 35 million download mark. From this, Inode tripled downloads, passing the 100 million milestone in June 2012.
From a start-up in the early days, Inode now delivers content for around 3% of the world population, reaching people in most regions of the world. It is in the top three ranking worldwide in the Nokia store and has its sights firmly set on the number one slot. Inode and Flexion were introduced by Nokia. From the point at which Inode integrated the Flexion wrapper into several of its games, it was able to see results, and Inode firmly believes that the wrapper is a serious revenue generator for any developer in the mobile ecosystem.
Inode believes the best in mobile technology is yet to come, with the technology still in its early stages. Technologies and solutions such as the ones that Flexion provides will help developer monetise and distribute their apps.
Flexion for Developers:
For developers looking to increase conversion rates and protect content against piracy – a growing problem for Android developers – Flexion's wrapper technology offers secure one-click operator billing in 70 markets and in-built licensing. Rather than adding billing SDKs to their game code, the Flexion wrapper automatically enables in-app billing for products. The wrapper also enables ad-funded models and content discovery.
Ends
About the Flexion Market Update
The Flexion Market Update is published quarterly. Aimed at developers, the report gives them an overview of the latest trends in mobile game and app development which they can incorporate into their development and financial strategies, as well as providing transparency into the growth of Flexion's Android and Java wrapping technology.
About Flexion Mobile
Flexion is a leading mobile app monetisation solution. Its wrapper solutions allow developers to overcome the four main issues in the market for mobile games and apps: fragmentation, weak monetisation, lack of discovery and poor viral distribution models. The Flexion wrapper enables global payments, ad-funded monetisation and on-device content discovery without requiring the developer to repurpose their code. Wrapping is automated and the wrapper can be applied to any game or app. Flexion is used globally by millions of end-users across thousands of products by hundreds of developers and some of its partners are the biggest names in mobile, including OEMs such as Nokia, operators such as Orange Group and publishers like EA Mobile.
For further information please visit http://flexionmobile.com/.
Press Enquiries
Kate Gordon
Joshua PR
Kate.gordon@joshuapr.com
+44 7980 921961