TP-LINK survey reveals that efficient Internet access is a top priority for UK users
Reading, UK, 18th of June, 2013: A recent survey* carried out by TP-LINK, the global provider of SOHO and SMB networking products revealed that efficient Internet access ranks amongst one of the highest priorities for consumers in the UK. For example, men deemed sex and Internet access more important than warm shelter and food, having 42% and 36% of survey respondents rank these two first elements highest in the priorities list.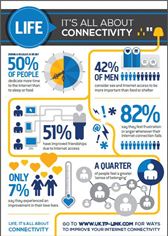 Research Infographic
The survey also reflected that thanks to Internet access, over 51% of people have strengthened their friendships, while a quarter consider that it has allowed them to experience an enhanced sense of belonging. However, only 7% of people admitted to have experienced a positive change in their love lives thanks to the Internet.
Other findings included that during a regular 24 hour day, 50% of people dedicate more time to the Internet, than to sleep. Moreover, it seems that the lack of Internet access can also cause people to experience intense emotions, as 82% of survey respondents claimed to have felt frustration or anger whenever their connection failed.
These figures clearly reflect the drivers behind the increasing demand for products that can offer reliable and efficient connectivity both at work and home. To meet this demand, TP-LINK has launched several different products, such as the TL-WR710 150Mbps Wireless N Mini Pocket Router, with 5 operating modes, which offers an ideal solution for wired or Wi-Fi connections at home or in hotels.
Other new TP-LINK products that ensure stable and fast Internet access include the AC1750 Wireless Dual Band Gigabit Router Archer C7, the first in a series of routers based on the next generation Wi-Fi standards. Three times faster than wireless N speeds and delivering a combined wireless data transfer rate of up to 1.75Gbps. the Archer C7 is the superior choice for seamless HD streaming, online gaming and other bandwidth-intensive tasks.
Eric Wang, Country Manager at TP-LINK UK said: "As our recent research shows, in the current increasingly digital world, quick and easy connectivity is one of the main concerns in people's minds in the UK. As the global leading supplier of WLAN devices, our goal is not only to provide high quality devices, but develop products that enable fast and reliable Internet connections at home and in the office, fulfilling the need for efficient connectivity impacting all aspects of our lives."
END
About TP-LINK
TP-LINK is a global provider of SOHO & SMB networking products and the World's No.1 provider of WLAN and Broadband CPE devices, with products available in over 100 countries to tens of millions customers. Committed to intensive R&D, efficient production and strict quality management, TP-LINK continues to provide award-winning networking products in Wireless, ADSL, Routers, Switches, IP Cameras, Powerline Adapters, Print Servers, Media Converters and Network Adapters for Global end-users.
Based on the confidence of tens of millions of customers, TP-LINK is now growing to become one of the most competitive providers of networking products with aspirations to become one of the top 3 networking brands in the world and striving for a larger global market share, while further advancing in the world of networking to better serve our most valued customers with products that make their lives easier. For further information visit http://uk.tp-link.com/. Follow TP-LINK on Twitter: https://twitter.com/TPLINK and Facebook at: https://www.facebook.com/TPLINKUK?fref=ts. Visit the TP-LINK forum: forum.tp-link.com.
* Survey conducted by TP-LINK across the UK and Ireland. Sample size of 3000 people, including males and females between 18-55+ years of age. Survey conducted during February-March 2013.
Press Contacts:
Natasha Hill
Rocket Communications
Tel: +44 (0)845 3707 024
E-mail: TPLink@rocketcomms.net