Solution Will Streamline Contract Processes, Help Control Costs and Improve Efficiency
London, UK - 18th April 2012 - Seal Software Group, a provider of solutions to discover, capture, extract and manage contracts, today announced that Array BioPharma Inc. has selected Seal Software to help with their drive to boost productivity and improve efficiency through the deployment of Seal's Contract Discovery (cDiscovery) and Contract Management solutions.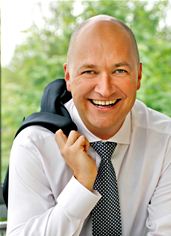 Ulf Zetterberg, Founder and CEO, Seal Software Group
Array is a biopharmaceutical company focused on the discovery, development and commercialization of targeted small-molecule drugs to treat patients afflicted with cancer and inflammatory diseases.
Seal's cDiscovery solution will initially allow Array to migrate all contracts and associated metadata from an existing corporate solution, into Seal's own Dolphin Contract Manager for Microsoft SharePoint platform. Once contracts and metadata have been uploaded to Dolphin, Array will then be able to manage all contractual obligations, renewals, terminations and other key milestones and terms in a more process driven and efficient manner, from one single source of the truth.
Ulf Zetterberg, Founder and CEO, Seal Software Group added, "We're pleased to welcome Array BioPharma to our growing list of customers from industries where the volume and complexity of their contractual documents and interactions means they need to turn to technology to aid them. We look forward to working closely with Array as they implement Seal and Dolphin to help them meet their objectives."
About Seal Software Group
Seal Software Group provides solutions to discover, capture, extract, create and manage contracts. Seal's unique combination of Contract Discovery (cDiscovery) and Contract Lifecycle Management (CLM), provides insight, lifecycle management and reporting for law firms, General Counsel, Legal Process Outsourcers (LPO) and eDiscovery vendors.
Seal's Dolphin CLM for SharePoint, manages contracts in a secure repository, from creation to ongoing proactive management of contract performance.
Seal's cDiscovery automatically discovers existing contractual documents, extracting key information from any file type. Applicable in M&A, spend and procurement and contract abstraction environments, Seal identifies and processes thousands of documents per day, reducing the time and cost of discovery, due diligence and contract abstraction.
For further information, visit the Seal Software Group website: www.seal-software.com
Media Contact:
Ulf Zetterberg, Seal Software Group
+44 1344 988 450
ulf.zetterberg@seal-software.com
www.seal-software.com