Harrogate – College of Podiatry Conference 2019
Issued by Aussie Soles UK (aussiesolesonline.co.uk)
22 November 2019 Podiatrist and author David Tollafield called today for fellow colleagues to raise awareness of their efforts against the common enemy: foot pain. Too many people live with foot pain, which in later life affects their mobility and independence, and only then do they seek podiatrists' help. Tollafield is agitating for people of all ages to get early check-ups if pain is continuous.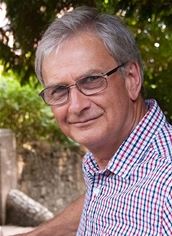 David Tollafield
"We need to promote the health benefits of footcare in the way dentistry did with dental care," says Tollafield. "A healthy body starts with healthy feet and podiatry must lead the way". His site ConsultingFootPain.co.uk unites foot pain sufferers with podiatrists and he is offering his skills as a journalist and author to help podiatrists promote podiatry to the public. "Our profession is growing at record rates in order to meet the demands of an ageing population. We must get proactive and use our communication skills to prevent younger generations from suffering mobility problems in the future."
At this year's College of Podiatry Conference podiatrists and brands are being encouraged to put their weight behind the 'War on Foot Pain'. Footwear brand Aussie Soles are sponsoring the initiative. "We are thrilled to be the first sponsor of the 'War on Foot Pain'," says Craig Taplin, founder of Aussie Soles, - "It has always been my goal to provide healthy footwear for people of all ages."
About David Tollafield
David retired as a hospital Consultant (Podiatric Surgeon) after forty years of clinical experience. He believes that "progress through the art of communication" is vital to ensure that everyone takes responsibility for their health. You can contact David to share your foot pain story via http://consultingfootpain.co.uk/
About Aussie Soles
From Queensland's Sunshine Coast, Aussie Soles provide footwear designed with podiatrists as a healthy alternative to traditional open shoes. For patients who need arch and heel support throughout the day, they offer a cost-effective solution for occasions when wearing orthosis may not be practical.
Aussie Soles are keen to promote podiatry and if you would like to share your expertise with their customers please contact James and Irina via email aussiesoles.uk@bluenest.info.
About Podiatrists and the College of Podiatry
Podiatrists diagnose and treat conditions of the feet and lower limbs. The College of Podiatry ("COP") is the professional association and trade union for registered podiatrists in the United Kingdom.
The COP's 2019 conference is taking place in Harrogate on 21-23 November. Its theme of 'Podiatry at the Heart of the Community' reflects the dedication of COP members to community wellbeing through alleviating all common day-to-day foot problems (and complex health issues too).
More information is available via: https://cop.org.uk/conference/college-of-podiatry-annual-conference-2019/