New content update brings Car Rental system and new 'Challenge a Friend' mode.
7 August 2012, London, UK As part of a series of regular content updates, the Auto Club Revolution team today released more innovative features into its online racing game and car community Auto Club Revolution where car ownership and social interactivity are key reasons to play.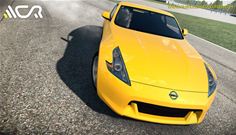 The newly launched Nissan 370Z 1
Just like in the real world, from today players of Auto Club Revolution can choose to buy or, for the first time, rent cars that they've always dreamed of racing. Players can choose from a selection of cars from the entire Auto Club Revolution showroom and provides the option for players to rent for one, three or five days. The available models will be changed regularly allowing players to sample the widest possible range of the fully licensed cars available throughout the game.
To celebrate the launch of car rentals, the team has added a new social feature designed to allow players to challenge their friends in lap time competitions on any of the officially licensed or custom race tracks in Auto Club Revolution. This feature is the first asynchronous lap time competition and gives players the chance to set lap times on a track and then challenge a friend to beat it, but at a time of their convenience.
Executive producer Christoph Vietzke said, "Both the new features we've announced today are in response to player feedback and we're striving to continue to bring features requested by our communities. Car rentals is a major new feature as it allows players to sample cars before they buy."
He continued, "The addition of a turn-based challenging system broadens the appeal of Auto Club Revolution and makes it even more accessible to communities of friends".
Players can register and play for free at http://www.autoclubrevolution.com to try any of the new features and cars available.
For more information, contact:
International Media:
Arwen Duddington, Eutechnyx
e: ad@eutechnyx.com
Tel: +44 207 300 7276
German Media:
Janina Wintermayr, Marchsreiter
e: eutechnyx@marchsreiter.com
Tel: +49 89 519 199 42
NOTES TO EDITORS
About Auto Club Revolution
Auto Club Revolution is a free-to-play online racing game and car community built in collaboration with the motor industry. Featuring officially licensed cars from over 50 of the world's leading motor manufacturers, it delivers a console quality racing experience to the free-to-play market while providing a social platform for owning, customising and enjoying cars online. The game's front end is web-based, creating a powerful and flexible social platform for communities of car enthusiasts and racing fans to interact with each other and their favourite motoring brands. The racing experience itself is delivered via a downloaded application (client), built on the world class Eutechnyx-owned racing engine. This combination of web and app. empowers the player to manage their game, garage and network of friends on the web from anywhere, while the downloadable element provides the premium quality race experience that separates Auto Club Revolution from all other games in the sector.
Auto Club Revolution is designed, developed and published by Eutechnyx.
For more information about Auto Club Revolution see http://www.autoclubrevolution.com/
Website: http://www.autoclubrevolution.com/
Twitter: @autoclubrev
Facebook: http://www.facebook.com/AutoClubRev
About Eutechnyx
Eutechnyx is the world's leading independent racing game developer. With a history spanning over 24 years, the studio has won numerous awards for its million-plus selling titles and garnered exceptional acclaim in the business sector. As well as its headquarters in the Gateshead (UK), the company has studios in Hong Kong, Chengdu (China) and Charlotte (USA) and a publishing office in London (UK).
For more information, please visit http://www.eutechnyx.com
Auto Club Revolution and Eutechnyx are registered trademarks of Eutechnyx Ltd. All rights reserved.