Guildford, UK – Tuesday, 16 February, 2016: Avaya, a global leader in business communications software, systems and services, today announced it has appointed Maan Al-Shakarchi as the Head of Networking in Europe, Middle East and Africa, and Asia-Pacific.
In his new role, Al-Shakarchi will be responsible for driving sales of Avaya's next-generation networking solutions across the region with a focus on its state-of-the-art Fabric Connect networking technology. As today's businesses transition towards cloud and software-based models, Al-Shakarchi will be heavily involved in building momentum for one of the company's most strategic and exciting areas for growth. He will report directly to Nidal Abou-Ltaif, president for Europe, Middle East & Africa, and Asia-Pacific.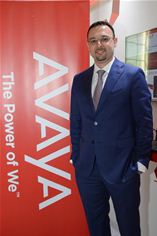 Maan Al-Shakarchi
Al-Shakarchi began his career at Avaya in 2005 as part of the Nortel team and most recently led Avaya's networking business for the Global Growth Markets Theatre, overseeing key networking implementations with customers such as Al Noor Hospital, Burj Khalifa and the Dubai Stock Exchange.
Al-Shakarchi has worked in the technology industry for more than 15 years and, over that time, has been part of sales engineering and services sales teams. He has worked in the Middle East since 2002 and is based in Dubai with his wife and three children. He has a Bachelor of Electrical Engineering from McGill University in Montreal, Canada.
Quotes
Nidal Abou-Ltaif, President, Europe, Middle East and Africa, and Asia-Pacific, Avaya:
"Since joining Avaya, Maan has played a vital role in transforming the company into the software and business collaboration powerhouse it is today. With his impressive track record in driving adoption of our leading Fabric Connect networking technology, Maan is also one of the main reasons that Avaya is currently leading the networking industry as a whole towards fabric-based architectures. I have every confidence he will continue to drive our networking business forward in this new position."
Maan Al-Shakarchi, Head of Networking in Europe, Middle East and Africa, and Asia-Pacific, Avaya:
"A flexible and reliable network is essential for forward-looking businesses that want to capitalise on the megatrends of today and tomorrow – including network virtualisation, cloud, mobility, and video – to drive competitive advantage. In my new role, I'll be supporting Avaya customers in achieving their ambitions to become digital businesses, and helping them to future-proof their technology investments by adopting what we believe is the most advanced fabric-defined networking solution on the market today."
-Ends-
About Avaya
Avaya is a leading provider of solutions that enable customer and team engagement across multiple channels and devices for better customer experience, increased productivity and enhanced financial performance. Its world-class contact center and unified communications technologies and services are available in a wide variety of flexible on-premises and cloud deployment options that seamlessly integrate with non-Avaya applications. The Avaya Engagement Development Platform enables third parties to create and customize business applications for competitive advantage. Avaya's fabric-based networking solutions help simplify and accelerate the deployment of business critical applications and services. For more information, visit www.avaya.com
Certain statements contained in this press release are forward-looking statements. These statements may be identified by the use of forward-looking terminology such as "anticipate," "believe," "continue," "could," "estimate," "expect," "intend," "may," "might," "plan," "potential," "predict," "should" or "will" or other similar terminology. We have based these forward-looking statements on our current expectations, assumptions, estimates and projections. While we believe these expectations, assumptions, estimates and projections are reasonable, such forward-looking statements are only predictions and involve known and unknown risks and uncertainties, many of which are beyond our control. These and other important factors may cause our actual results, performance or achievements to differ materially from any future results, performance or achievements expressed or implied by these forward-looking statements. For a list and description of such risks and uncertainties, please refer to Avaya's filings with the SEC that are available at www.sec.gov. Avaya disclaims any intention or obligation to update or revise any forward-looking statements, whether as a result of new information, future events or otherwise.
Follow Avaya
Twitter: https://twitter.com/avaya
Facebook: http://www.facebook.com/avaya
YouTube: http://www.youtube.com/Avayainteractive
LinkedIn: http://www.linkedin.com/companies/1494/Avaya
Flickr: http://www.flickr.com/photos/avaya
Iman Ghorayeb, Avaya
+97144048275
ighorayeb@avaya.com