Consortium chooses 'best of breed' service desk solution to meet the complex challenges of today's NHS organisations
LONDON – 4 July, 2012 – LANDesk Software, a global leader in PC lifecycle management, endpoint protection and IT service management, today announced the Avon IM&T Consortium has installed LANDesk Service Desk 7.5 to revolutionise its customer service provision. The LANDesk implementation, which went live earlier this week, is set to transform the service the Consortium can provide for 4,500 users across 140 sites within NHS Bristol, North Somerset and South Gloucestershire.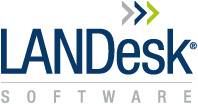 LANDesk logo
With the government changes and impact on the NHS, the Consortium's customer base and requirements have shifted over recent years. The Consortium needed an advanced database structure to match increased reporting standards, training support and a growing end-user base. The challenge was to find a solution that could report on service desk performance, automate processes and enable web desk and self-service support. The Consortium has worked successfully with LANDesk since 2008, so they used this expertise to develop a customised service desk solution.
"From a technical and customer support perspective, LANDesk is the best company we've dealt with, so when the time came to upgrade, there was no question about who we'd choose," said Stuart Andrews, project manager at Avon IM&T Consortium. "LANDesk truly is best of breed – it delivers everything we need and has helped us turn our service management vision into reality."
The Consortium purchased LANDesk Service Desk 7.5, and five months later have a fully customised, flexible solution that will enable them to generate efficiencies whilst better managing and constantly improving the service they can provide. LANDesk Service Desk 7.5 is the cornerstone in their vision of delivering an enhanced service management experience to their customers – it will help reduce mean time call resolution, provide enhanced features and optimise performance so they can deliver a top class service for their six core organisations and subsidiary customers. The new configuration, paired with their existing LANDesk service and security management solution, will also provide the catalyst for the Consortium's shift to self-service, a development which will be crucial in streamlining processes and reducing overhead costs.
"One of the key benefits of the LANDesk solution is its scalability that enables us to support organisations and help them adapt to new customers with different needs," said Stuart. "The LANDesk solution has laid the foundation for our IT infrastructure and we're looking forward to leveraging all of its features as our needs change in the future."
Nigel Seddon, Sales Director at LANDesk, added, "We are delighted that Avon IM&T Consortium has chosen to continue their partnership with us and we're looking forward to working with them to transform IT services across Bristol, North Somerset and South Gloucestershire. We are confident that their investment will pay dividends as the organisation evolves, enabling them to maximise efficiency, improve customer service and reduce costs going forward."
###
About LANDesk Software
LANDesk Software is a leading provider of systems lifecycle management, endpoint security, and IT service management solutions for desktops, servers and mobile devices across the enterprise. LANDesk enables IT to deliver business value by gaining control of end-user computing with a single console, light infrastructure, and ITIL solutions that deliver significant ROI for thousands of customers worldwide. LANDesk is headquartered in Salt Lake City, Utah, with offices located in the Americas, Europe and Asia Pacific, and can be found at www.landesk.com.
Copyright © 2012, LANDesk Software, Inc. and its affiliates. All rights reserved. LANDesk and its logos are registered trademarks or trademarks of LANDesk Software, Inc. and its affiliates in the United States and/or other countries. Other brands and names may be claimed as the property of others.
Press contacts
Keira Anderson
Porter Novelli
Tel: 0207 853 2289
Email: keira.anderson@porternovelli.com
Sarah Lewis
LANDesk Software
Tel: 01483 744232
Email: sarah.lewis@landesk.com