Edinburgh, UK – 23rd November, 2017: Axios Systems, one of the world's leading providers of IT Service Management (ITSM) and IT Operations (ITOM) solutions, is pleased to announce its participation at IT in the Park, Scotland's largest ITSM conference on Tuesday 28th November.
Attracting over 200 IT peers and 15 speakers, the sold out event organised by IT500, will be held in Edinburgh's Our Dynamic Earth and will showcase the latest in service management thinking and technology.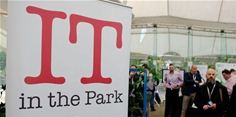 IT in the Park 2017
Exhibiting as an event sponsor Axios Systems will showcase assyst, its fit-for-purpose ITSM and ITOM solution.
IT500 Ltd is an IT advisory company, run by experienced ITSM specialist Martin McKenna and based on the outskirts of Edinburgh. IT in the Park became the first major service management conference in Scotland in 2015 and is now in its third year.
Axios CTO Chris Rydings will highlight the importance of balancing the increasing demand for faster IT services versus delivering quality of service in his speaking slot entitled: "How does ITIL Embrace Cloud and DevOps Adoption?"
Rydings will examine the now ubiquitous expectation of quick customer service and whether it is possible to control this alongside ensuring optimal service quality. Without control, consumer demand risks becoming detrimental to the overall service, while lengthy sign-off processes prevents quick service altogether.
Speaking ahead of the event, Rydings said: "I am delighted to have the opportunity to be able to speak at this year's IT in the Park in Edinburgh. It is one of the stand-out ITSM conferences in the UK and it is a great chance to showcase the very latest innovations in the ITSM and ITOM space.
"I am looking forward to interacting with the large numbers of IT service and management professionals who will be in attendance at the event, to gain a better understanding of their needs and requirements in an ever-changing and dynamic ITSM industry."
IT in the Park brings together an array of ITSM professionals and is designed to engage IT and all departments committed to delivering excellent customer service.
Axios Systems will deliver a feature presentation on optimising DevOps and how Cloud adoption within the ITIL structure can help improve the speed and quality of service delivery in an organisation.
Edinburgh-headquartered Axios Systems is proud to attend Scotland's largest ITSM conference, IT in the Park in the city's Our Dynamic Earth on the 28th November.
For further information, please contact:
Axios Systems
Press/PR
Stephen Brunsdon
Email: Stephen.Brunsdon@axiossystems.com
Phone: +44(131) 220 4748

-ENDS-
About Axios Systems
For almost 30 years, Axios Systems has been committed to delivering innovative IT Service Management (ITSM) and IT Operations Management (ITOM) solutions that help customers not only improve their infrastructure operations, but also enhance service delivery across business functions, including HR, Facilities Management and Finance. Axios is recognized as a world leader by leading analysts and their global client base, with a 100% focus on service management technologies.
Axios's enterprise software, assyst, is purpose-built to transform IT departments into profitable business-focused customer service teams. assyst adds tangible value to each client's organization by building on the ITIL® framework to help solve their business challenges.
assyst is accredited for all 16 PinkVERIFY™ ITIL® processes, and Axios was the first vendor to achieve this within one comprehensive intelligent solution.
For more information, please visit our website at http://www.axiossystems.com/