The Sun newspaper website has the largest market share on Google for keywords related to "no deal Brexit" finds Searchmetrics study
LibDems are the most visible party website on Google for Brexit-related searches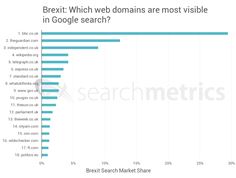 Brexit: Which web domains are most visible in Google search?
London, October 21, 2019 - With over a million searches a month in the UK for terms around "Brexit news", the BBC website (bbc.co.uk) is by far the most visible site on Google for Brexit-related searches according to a new study that analysed thousands of search results in October. The BBC website appears most often on the first page of search results for Brexit searches, with a share of almost 30%.
"Expertise, authority and trust are big factors in ranking high up on Google search," said Stephen Bench-Capon senior content marketing manager at Searchmetrics, which conducted the study. "The BBC's dominance suggests that, despite criticism and accusations of bias from all sides, Google views the BBC as the number one authority for relevant online information about Britain's exit from the European Union."
The second most visible site overall for Brexit information is the Guardian (market share of 12%), followed by the Independent (9%). Wikipedia and The Telegraph are next with around 4% each (see chart here https://blog.searchmetrics.com/us/wp-content/uploads/2019/10/brexit-leading-web-domains-searchmetrics.jpg).
How successful are the UK newspaper websites for Brexit searches?
Looking only at the Google performance of the UK national newspaper websites on Brexit, the research reveals that the Guardian takes the top spot, appearing on Google's first page for the largest number of Brexit-related keywords. The Guardian is followed by the Independent, Express and Telegraph. And the Sun newspaper website has the largest market share for keywords related to "no deal Brexit" (See the full chart here https://blog.searchmetrics.com/us/wp-content/uploads/2019/10/brexit-national-newspapers-searchmetrics.jpg).
"Appearing on the first page of Google is a huge opportunity for news websites to attract visitors who are hungry for information on Brexit developments. Our research highlights which major players are answering people's questions as the debate around the leave, remain, deal or no deal options rages on," said Stephen Bench-Capon of Searchmetrics.
Brexit appearances in Google News boxes, Image boxes, Video results and Ads (see chart here https://blog.searchmetrics.com/us/wp-content/uploads/2019/10/brexit-serp-features-searchmetrics.jpg)
News boxes ('Top stories') are integrated into 40% of first-page results for Brexit. Appearing in Google News boxes requires specific website optimisation measures, and The Guardian is winning in this area. The Guardian's stories are displayed most frequently in the Brexit-related News boxes (appearing in 20%). This is more than double the share of the Independent (9.5%) and the BBC (in third place with 9.2%).
Image boxes are displayed for around 24% of first-page results for Brexit, with images from The Express most popular (appearing in nearly 10% of all Image boxes). Second comes The Guardian (featuring in around 9% of Image boxes), followed by the BBC website (8%).
Video results are displayed for approximately 20% of searches for Brexit issues. These are overwhelmingly populated with videos that media and other sites host on YouTube.
For around 84% of searches on Brexit-related topics, Google AdWords search ads are present above the organic search listings on the first page. Around 47% of results have search ads appearing underneath the organic listings. The majority of search ads for Brexit issues are from the government's gov.uk website, many of which link to its "Get Ready for Brexit" campaign. Other advertisers include voicemag.uk and ft.com .
Lib Dems are beating the UK's other political parties on Brexit Google search
As part of its study, Searchmetrics separately analysed the Google search performance of the political party websites on Brexit. The data suggests that the Liberal Democrats website (libdems.org.uk) is the most visible party website on Google for Brexit-related searches.
Labour (labour.org.uk) comes a close second, followed by the Conservatives (conservatives.com), with the Scottish Nationalist Party (snp.org) ahead of the Brexit party (thebrexitparty.org) which trails in fifth place. The Green Party and DUP websites were placed well below the top five (see the chart here https://blog.searchmetrics.com/us/wp-content/uploads/2019/10/brexit-political-parties-searchmetrics.jpg).
According to the research, the primary website running paid search (AdWords) advertising around keywords related to Brexit is the government's website, gov.uk. It accounts for approximately 41% of the ads displayed beneath the organic search results and 79% of ads at the top of the results page. Many of the ads link to gov.uk's "Get Ready for Brexit" campaign.
As the table below indicates, the party websites' search performance for Brexit broadly reflects their political positions on the issue. For example, the Conservatives website ranks highest on Google for topics around Brexit policy, Labour tends to rank well for why the Brexit deal is no good, while the LibDems are ranking more for stopping Brexit.
The three top-ranking Brexit related keywords for the UK political parties (download the table)
<td">campaigns to stop brexit
conservatives.com
labour.org.uk
thebrexitparty.org
libdems.org.uk
snp.org
brexit policies
why is the brexit deal no good
ifs brexit predictions
stop brexit campaign
brexit promises broken
brexit 12 point plan
theresa may brexit deal
ifs brexit
stop brexit march
how brexit affects scotland
reasons why brexit is good
negotiating brexit
supporters of brexit
brexit takeaways
"When it comes to Brexit, all the parties are trying to win 'share of voice' on the topic and get their message out there," said Stephen Bench-Capon, senior content marketing manager at Searchmetrics. "A political party's aims on Google are different from those of a news publisher. By appearing in the search results for certain keywords they can make it clear to voters that their party should be associated with this kind of policy. The Liberal Democrats ranking for "Stop Brexit campaign" is a good example of this phenomenon.
"If parties are performing better on Google, it's an indication of their ability to provide high-quality Brexit-related content that answers searchers' queries. And it shows their expertise in optimising the content so that the search engine displays it more frequently in higher positions."
About the study
Searchmetrics analysed the search results on page one of Google (google.co.uk) for 5,000 Brexit-related keywords and phrases. This enabled the company to compile a ranking of the websites that are frequently appearing in the top ten search results (page one) on Google for the Brexit keyword set. The list also takes account of the search volume of keywords (how often keywords are searched) and the ranking position on the search page. So, appearing at the top of the Google results for frequently searched keywords will give a site a greater market share and higher position on Searchmetrics' list. Examples of the keywords included in the sample are "Brexit", "Brexit news", "Brexit and farming", "Background on Brexit" "Will Brexit make us poorer?", "Brexit fishing rights", "Free movement after Brexit" and "Another Brexit referendum". The study is based on data collected in the first half of October 2019.
Searchmetrics has posted a detailed analysis of this study, including charts and tables, on its blog: https://blog.searchmetrics.com/us/brexit-google-search/
About Searchmetrics
We help you attract an online audience and boost results with content that uniquely matches user intent. Using the deep learning insights of the Searchmetrics Suite and Searchmetrics Content Experience platform, we navigate the shifting priorities of search engines and help you outrank your competition. Search has evolved into a data-driven field that requires powerful software to guide companies through discovery, briefing, optimization and measurement of engaging storytelling.
There's only one platform that owns its data: Searchmetrics, the world's #1 Search and Content Marketing Platform. We don't rely on data from third parties and we've been studying search and content trends since 2005 − compiling the industry's largest global and historical database.
Searchmetrics uncovers the opportunities and pitfalls of online marketing. Our award-winning Searchmetrics products bring search engine optimization and content creation together for the first time, offering marketers an ultimate platform for creating the moments that shape customers' decisions and brand preferences. We offer competitive insights and hands-on consulting to help our customers create predictable returns in earned media. Our SEO Visibility Score − trusted by reputable media sources such as The New York Times, Bloomberg and The Guardian − reliably gauges your online presence. Searchmetrics reveals the connection between social media links and overall engagement, and its analytics make clear which content performs best.
More information: www.searchmetrics.com .
Media Contact
Uday Radia
CloudNine PR Agency
uradia@cloudninepr.com
+44 (0)7940 584161