Expansion builds on BIS and Mood combined experience and reach
London, June 13, 2013 – BIS, part of the Mood Media Corporation, and a leader in presentation, information and communication rooms for business, is expanding to launch across three key European markets: France, Germany and the UK. The company, which advises on, configures, installs and maintains total integrated solutions for rooms and buildings, has previously focused on the Benelux market.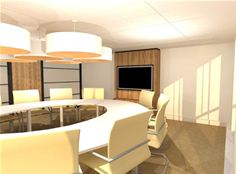 BIS 1
BIS has a proven track record in the area of AV & ICT integration and room furnishing and over a six-year period has furnished 30,000 rooms at thousands of organisations - ranging from multinationals to SME enterprises; hospitals; municipalities; educational institutions; and pharmaceutical companies. BIS' knowledge, skills and experience, complemented by Mood's existing network and expertise in France, Germany and the UK will create a comprehensive service, unrivalled by others in the market.
Mood, which is a global leader for Experience Design in the retail, leisure and hospitality industries, acquired BIS a year ago. As BIS expands its market reach, the company will continue to be marketed as BIS and build on its already strong reputation as the audiovisual & ICT system integrator in almost all sectors, excluding retail.
BIS core competencies cover: audiovisual (dynamic AV & ICT solutions for every type of room and organisation); video communication (for time- and location-independent working, conferencing and presenting via video); digital signage (visualising information in a targeted manner); interior projects (total interior design including furniture, lighting, floors, walls and ceilings); event rental (organising and facilitating commercial events); and digital productions (creation of digital signage content, corporate videos, online videos, webcasts, apps and 3D animations).
Jean Pierre Overbeek, CEO of BIS Group, commented: "We see great opportunities in these three new markets for BIS to support the needs of businesses with innovative audiovisual and IT solutions. We have years of experience consulting and executing projects for organisations in diverse sectors and every year create and maintain thousands of presentation and communication rooms for brands. Through joining forces with Mood, we can now also offer added value in the area of audiovisual room furnishing and other audiovisual solutions, such as video communication, to organisations in other key European countries."
Ben Gujral, Chief Financial Officer of Mood Media Corporation, said: "Especially in high-quality audiovisual & ICT integration and room furnishing we see great potential to support businesses which need international solutions in Europe. The 800 specialists who work for Mood across Europe enable us, as one of few organisations with such capabilities, to anticipate this trend."
BIS offices will be opening in all new markets on July 1, 2013.
-----------------------------------
About Mood Media
Mood Media (TSX:MM / LSE AIM:MM) is a global leader for Experience Design. By integrating media and sensory content, social and mobile applications, and technology-based solutions, we enhance brands and help our clients create powerful connections with their customers.
Mood partners with many of the world's leading brands across a wide range of industries, including retail, fashion, financial services, hospitality and food service. Serving more than 560,000 commercial locations in 55 countries throughout North America, Europe, Asia, the Middle East and Australia, Mood reaches more than 150 million people every day.
For further information about Mood Media, please visit www.moodmedia.com. Follow us on Twitter https://twitter.com/moodmedia and connect with us on Facebook http://www.facebook.com/moodmedia.
Ali Beer
Marketing Manager Europe
Mood Media
0207 487 8936
ali.beer@moodmedia.com
Georgina Miller
FleishmanHillard
+44 (0)20 7395 7081
georgina.miller@fleishmaneurope.com
About BIS
BIS, a leader in presentation, information and communication rooms, advises, configures, installs and maintains total integrated solutions for rooms and buildings. Our offer includes audiovisual & ICT solutions, conference systems, digital signage, electrical engineering and furniture, which are all supported by intelligent services. In addition, BIS, which consists of highly developed divisions that collaborate in the areas of design, layout, furnishings and ICT, also sells a broad range of high-quality products and has won a strong reputation as an organiser and provider of business events and audiovisual productions. BIS focuses on the business and public sector markets, operates several strategically located subsidiaries in the Benelux and employs more than two hundred people
For more information please go to http://www.bis.nl/en/ or contact the Marketing Director, Erwin Hout. Send an email to pr@bis.nl or call +31 (0)180 486 777.