RUGGED TOUGHBOOK RANGE AND WINDOWS 8 COMBINE TO OFFER POWERFUL AND INTUITIVE PERFORMANCE FOR MOBILE WORKERS
BRACKNELL, UK 19 NOVEMBER 2012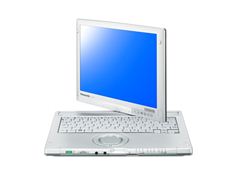 CF-C1 screen and keypad
Panasonic today announced that Openreach is deploying 5,900 Toughbook rugged convertible tablet computers with Microsoft Corporation's new Windows 8 operating system to improve engineer productivity in the field. The deployment period runs from September to December 2012. The deal is the first to be announced as a result of Panasonic's early decision to make its Toughbook range Windows 8 ready.
The Toughbook CF-C1's will be used by engineers for commissioning and testing broadband services in the field and at customer premises. Combining the ground-breaking ergonomics, rugged design and outstanding performance of the Toughbook convertible tablet PC with the advanced touch interface of Windows 8 will deliver major productivity and user improvements for the engineers.
Peter Scott, BT's director, end user technology, said: "The ability to combine Panasonic Toughbook's rugged hardware with Microsoft's most user-friendly operating system was a major influence in our investment decision. The new devices will be faster, more reliable and more intuitive to use, meaning our engineers will be able to respond even more effectively to our customers' needs."
Panasonic, BT and Microsoft worked closely together during the Windows 8 pre-release phase to bring together the three core elements: the device, the operating system and BT's systems. Multiple BT apps will be transitioned to operate using the Windows 8 interface, including legacy applications such as the TaskForce Field Client and Openreach's work management app. Additionally, a suite of new custom-built apps will utilise the CF-C1 touch screen, opening up capabilities such as signature capture and the ability to store photographic evidence.
The Toughbook CF-C1 devices will be used by engineers in Mobilis "always on" carry cases, to further improve durability of the device in a field engineer environment.
"We have made our market leading Panasonic Toughbook and Toughpad computers Windows 8 ready, along with our entire organisation," said Jan Kaempfer, European Head of Marketing for Panasonic Computer Product Solutions. "Our engineering expertise, product ruggedness, daylight readable screen technology and in-vehicle docking solutions allow organisations to put Windows 8 to work fast and with minimal risk. Working in close co-operation with BT and Microsoft we have been able to deliver a Toughbook solution that will significantly improve the productivity of the Openreach engineers."
"With Windows 8, our goal was to deliver both the experiences people love and the enterprise-grade solutions that organisations need," said Erwin Visser, senior director of the Windows Commercial business at Microsoft Corp. "The combination of the intuitive touch interface of Windows 8 with Panasonic's professional convertible Toughbook CF-C1 gave BT an easy-to-use and ruggedised form factor that enabled its field engineers to work from almost any location, whether it be a vehicle or a telephone pole."
The Toughbook CF-C1 is a business rugged and lightweight notebook that can be used in clamshell or tablet form. The device, which is ideal for mobile workers and field engineers, uses the latest generation Intel® Core i5-2520M (2.5GHz) for increased performance and the Intel® HD 3000 graphics for enhanced multimedia capabilities.
For data transfer, the Toughbook CF-C1 uses the Ericsson F5521gw HSPA+ module with wireless ready connection manager, delivering download speeds up to 21Mbps. A 1.3 megapixel front web camera is included as an option for users needing to capture data when away from the office.
The Panasonic Toughbook CF-C1's touch screen works comfortably in clamshell as well as in tablet mode, as its toughened triple hinge system keeps the screen rigid while the user is typing. The CF-C1 also offers up to 12 hours battery life (MobileMarkTM 2007, 60cd/m²) with its twin hot swappable-batteries. With a single 4 cell battery installed, the unit is extremely light at just 1.49kg (and only 1.69kg with both batteries installed), and the moulded hand-free ergonomic strap lets users hold it easily in one hand while typing with the other. This makes the CF-C1 ideal for people who need to capture information in an environment where it may be difficult to put the unit down to type. The device has a spill-resistant keyboard and is drop-tested in operation mode from a height of up to 76cm.
For further information visit www.toughbook.eu.
Press contact:
Peter Beck
peter@ambergroup.net
Tel: +44 (0)1189 001133
About Panasonic System Communications Company Europe (PSCEU)
PSCEU is the European branch of Panasonic Systems Communications Company, the global B2B division of Panasonic. PSCEU's goal is to improve the working lives of business professionals and help their organizations efficiency and performance. We help organizations capture, compute and communicate all sorts of information: image, voice, and textual data. Products include PBX telephone switches, document printers, professional cameras, projectors, large visual displays and rugged mobile PCs. With around 500 staff, engineering design expertise, global project management capability and a large European partner network, PSCEU offers unrivalled capability in its markets.
The new PSCEU is made up of four business divisions:
Communication Solutions including professional scanners, multifunctional printers, telephony systems and HD video conferencing systems.

Visual System Solutions including projectors, interactive whiteboards, presentation aids and displays. Panasonic is the European market leader in projectors with 28% revenue share.

Professional Camera Solutions including professional audio visual, security and industrial medical vision (IMV) technology. Panasonic is one of the top two professional camera vendors in Europe.

Computer Product Solutions including the Toughbook range of rugged notebooks, Toughpad business tablets and electronic point of sales (EPOS) systems. Panasonic Toughbook had 65.8% share of the European rugged and durable notebook market in 2011 (VDC, March 2012).
Panasonic Corporation is a worldwide leader in the development and manufacture of electronic products for a wide range of consumer, business, and industrial needs. Based in Osaka, Japan, the company recorded consolidated net sales of 7.85 trillion yen (€71.4 billion) for the year ended March 31, 2012. The company's shares are listed on the Tokyo, Osaka, Nagoya and New York (NYSE:PC) stock exchanges. For more information on the company and the Panasonic brand, visit the company's website at http://panasonic.net/