Partnership combines Bee7's innovative monetization and user acquisition platform with Vserv's app monetization solution - VMAX™
Unlocks traditionally hard to monetize markets for developers across the globe, overcoming difficulties with payments on mobile
London, UK/Mumbai, India: Bee7, the android games monetization and user engagement platform that originated as the in-house solution of Outfit7 - the global entertainment company best known for its hit Talking Tom, today launched a partnership with Vserv, the leading smart data platform for mobile marketing in India & Southeast Asia, to help solve mobile games monetization in these markets.
Until now, monetization in India and Southeast Asia has been notoriously difficult due to weak payment infrastructure and low credit card usage, which makes paying for games or in app purchases practically impossible.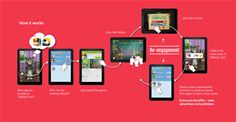 How Bee7 Works
The partnership creates a genuine avenue for developers across the globe to monetize their titles in these markets without disrupting the user experience, or charging for games and in-app bonuses. It combines Bee7's unique game wall tool and Vserv's app monetization solution - VMAX™, thereby enabling developers to pull in demand from multiple channels using one single solution. This combined with Vserv's large developer ecosystem of 150,000 apps and mobile sites from publishers such as Disney, EA, Games2Win, Reliance Games, ZeptoLab etc. gives developers a proven tool to increase user retention and yield optimization in a fragmented android dominated market.
Through this partnership, Bee7 and Vserv have unlocked a lucrative new market for developers. India's smartphone adoption is growing rapidly and will be the world's second largest smartphone market. It also ranked third for total downloads in Google Play for 2014 [1], while mobile games revenue in Southeast Asia exceeded $1.1 billion last year [2].
John Rankin, Managing Director of Bee7 said: "As global CPI costs continue to soar, developers look to emerging markets as a new revenue opportunity to help make their games profitable. It's been incredibly tough for developers to make money in these markets, until now."
"The Bee7 and Vserv partnership unlocks these markets for developers - arming them with a proven method to make money from games and improve player retention without disrupting the all important user experience."
Prashant Dixit, VP - Global Data & Supply Partnerships, Vserv, added: "Vserv's latest offering, VMAX™, is a trusted friend to game developers as it helps them maximize their yield. VMAX™ enables these incredible results by providing developers complete control, maximum demand channels and wide range of ad formats. Our partnership with Bee7 is a step further towards our commitment in solving monetization challenges for developers in India & Southeast Asia. By combining Bee7's unique game wall tool with VMAX™, we are providing a powerful app monetization solution to our developer friends."
Vserv and Bee7 will host events together to help grow the mobile games ecosystem and to share their knowledge of emerging markets, advertising tech, user acquisition, retention and monetization with developers.
Developers looking to monetize their games in India and Southeast Asia using the combined power of Bee7 and Vserv can visit www.vserv.com/vmax
[1] App Annie 2014 Retrospective
[2] Newzoo Southeast Asia Games Market Report
ENDS
About Bee7:
Bee7 is a user acquisition and monetization platform for Android, created especially for games. Bee7 makes it easier for developers to acquire loyal users, boost retention and monetize their games.
Created by multinational entertainment company and game developer Outfit7 to help other developers overcome the challenges of making profitable games, Bee7 uses the same technology that propelled Outfit7 from a startup to achieve in excess of 2.5 billion downloads. Founded in 2014, the Bee7 platform, owned by Bee7000 Limited, is growing rapidly, already reaching 200 million monthly active users. While Bee7 Limited, responsible for all sales, is headquartered in London, it has expanded its presence to San Francisco and Singapore. Find out more by visiting www.bee7.com.
About Vserv:
Vserv is the leading smart data platform for mobile marketing in India and SEA. With over 500 million unique user profiles globally, Vserv's flagship platform, AudiencePro™, ties together data from multiple sources such as offline and online marketers, telecom operators, mobile app developers and other third party sources. The platform then creates user personas and triggers real time intent signals thereby enabling unprecedented discovery, analysis and monetization of end users. Founded in 2010, Vserv is backed by Maverick Capital, IDG Ventures India and Epiphany Ventures and has offices across India and South East Asia. For details, please visit www.vserv.com
Media contacts
For more information on Bee7, please contact Mitchell Fox, dimoso - bee7@dimoso.com / +44 (0) 2070332660
For more information on Vserv, please contact Rachita Vaid, Vserv - rachita.v@vserv.com