The network topped download volume chart on MobileAppTracking by TUNE in January
Gamers played titles discovered through Bee7 for more than 3.4 million hours
Average daily revenue exceeded $9.06 per 1,000 daily active users in US
London, UK: 27 February 2015 - Android games monetization and user acquisition platform Bee7 today announced the results from its first three months, revealing it delivered 6.3 million Android game installs for developers, helped publishers secure an average revenue of $9.06 per 1,000 daily active users and created the highest volume of installs in January, according to leading attribution service MobileAppTracking by TUNE.
The news comes as the startup readies for Game Connection in San Francisco, where it'll be based from Table 132.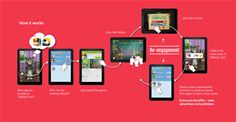 How Bee7 Works
Launched in November 2014, Bee7 offers a single solution for developers to acquire users, cross promote and monetize Android games by focusing on improving retention and user experience. Through Bee7's unique game wall and rewards mechanism, users are given the opportunity to discover new games within the titles they love playing. They are then rewarded with in-game loyalty bonuses in these titles, each time they try something from the game wall. This engagement process boosts retention in both the advertiser and publisher's games.
The results from Bee7's first three months have been impressive for both developers and publishers. Highlights include:
An average daily revenue of $9.06 per 1,000 daily active users on Android for Outfit7 titles, My Talking Tom and My Talking Angela, in the US
Creating the highest volume of installs in January 2015 on leading attribution service MobileAppTracking by TUNE
6.3 million new installs generated by Bee7's game wall
Over 3.4 million hours of gameplay from users who found a game through Bee7's game wall
78 million rewards claimed by gamers in the publishers' title as a result of Bee7's reward mechanism
"We set out to create a genuine avenue for developers to grow their games and boost retention on Android and these results show it's working," said John Rankin, Managing Director of Bee7. "More than 3.4 million hours of gameplay from titles discovered through Bee7 in just three months shows that gamers are receptive to content when it's relevant and doesn't disrupt the gaming experience. The average revenue per 1,000 daily active users of $9.06 proves there is an incredible way to make free-to-play games more profitable while maintaining a positive user experience.
"As a relatively new kid on the block, we're extremely proud to be ranked so highly amongst the industry's legacy platforms, at the top of MobileAppTracking's download volume charts in January," Rankin added.
Bee7 originated as the in-house discovery and cross promotion solution of Outfit7 Limited, the multinational entertainment company best known for its global phenomenon Talking Tom, helping it grow to more than 2.5 billion downloads in just four years.
< ENDS>
Note to the editor:
The Bee7 team will be attending Games Connection San Francisco, on 2-5 March, at Table 132. Contact us to schedule a meeting or interview: bee7@dimoso.com
About Bee7:
Bee7 is a user acquisition and monetization platform for Android, created especially for games. Bee7 makes it easier for developers to acquire loyal users, boost retention and monetize their games.

Created by multinational entertainment company and game developer Outfit7 to help other developers overcome the challenges of making profitable games, Bee7 uses the same technology that propelled Outfit7 from a start-up to achieve in excess of 2.5 billion downloads. Founded in 2014, the Bee7 platform, owned by Bee7000 Limited, is growing rapidly, already reaching 200 million monthly active users. While Bee7 Limited, responsible for all sales, is headquartered in London, it has expanded its presence to San Francisco and Singapore. Find out more by visiting www.bee7.com.
Media contacts
For more information, please contact Mitchell Fox, dimoso - bee7@dimoso.com / +44 (0) 2070332660