November 1st, 2012, Ascot, UK – ZBD, the leading provider of fully graphic epaper display systems for retailers and industrial and commercial users globally, has announced that Bemmel and Kroon has installed several hundred epaper displays in its new flagship kitchen showroom in Zoeterwoude-Rijndijk, the Netherlands, working with ZBD's local partner CREO-CPS.
The new 2,500 square metre showroom is a key part of Bemmel and Kroon's multi-channel retail operation and opened in the Summer of 2012. Bemmel and Kroon maintains flexible pricing across both physical showrooms and its web shop, ensuring that prices are always consistent and matched to pricing trends across the kitchen retail industry. The ZBD system includes wireless networking and integration with back-end IT systems and will support this key business process.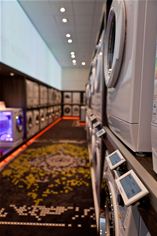 ZBD's displays at Bemmel and Kroon
Bemmel and Kroon also chose to implement the ZBD platform for its new store because changing physical paper labels in-store was a time-consuming and labour-intensive task. A second reason was that ZBD's epaper displays look smarter than paper labels, which can also be prone to user error when prices and product information changes regularly on a daily basis and amendments are made by hand.
Marcel van Bentum, Operations Manager at Bemmel and Kroon, explains: "We equipped our new showroom with ZBD's epaper system because it complies seamlessly with our full-service web shop where customers can choose from our huge range of kitchen components from home. We monitor prices in the industry closely then immediately adapt the epaper displays, which are linked to our IT systems, to the current situation. Our customers are always - and everywhere - aware of the correct prices and product information."
David Morgan, SVP Global Sales at ZBD said: "Bemmel and Kroon is a great example of a retailer that has selected our epaper system not just because it looks cleaner and more up to date, but also because it needs to maintain a single pricing strategy across multiple channels including online and in-store. This is part of a growing trend for retailers to be more transparent in their multi-channel pricing strategy and to ensure that they provide 100% accuracy between prices and product information at the shelf, online and at the checkout."
ENDS
Notes for editors
About Bemmel and Kroon
Bemmel and Kroon is a family-run kitchen showroom business that has been operating for over 50 years. The company has 4 showrooms throughout the Netherlands. It is a quality brand that has built its reputation on happy customers who come back again and again.
About ZBD:
Formed in 2000 out of QinetiQ, ZBD is a pioneering company with its own R&D, full IPR and scalable manufacturing processes that enable it to deliver an e-paper solution with practical commercial advantages for retailers.
ZBD is a leader in the design and supply of electronic shelf edge labels and associated software solutions for the retail industry. The company has developed the next generation of LCD, creating high-contrast bistability that requires no battery power to retain its image.
Its range of e-paper displays provides retailers with a total store solution and the ability to manage and update pricing, product and promotional information at point of purchase, dynamically.
For further information on ZBD, visit http://www.zbdsolutions.com or follow ZBD on Twitter at @zbdsolutions.
Media contact at ZBD:
Sarah Hool
Tel: +44 (0)1344 292 110 or +44 (0) 7753 573 490 (mobile) | sarah.hool@zbdsolutions.com
Georgia Hanias / Judith Massey
Tel: + 44 (0) 207 6389571 | zbd@citigatedr.co.uk