Thousands of high speed Newtec Ka-band VSAT terminals planned to be deployed within first year of service
HAYLING ISLAND HAMPSHIRE, UK, and SINT-NIKLAAS, Belgium, 28 August 2014 Bentley Walker, one of the world's leading service providers for broadband satellite VSAT services, is extending its coverage to Iraq using Newtec's Ka-band VSAT broadband platform.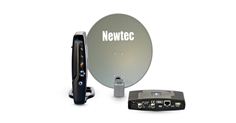 MDM2200 terminal
The new service, which will initially deliver high speed broadband connectivity to Iraq, went live yesterday and will provide reliable high speed Internet connectivity across the country using a Newtec IP Broadband HUB installed at Avanti's new gateway at Makarios Teleport in Cyprus. The new service will use High Throughput Satellite (HTS) Ka-band capacity on Avanti's HYLAS 2 satellite which was launched in August 2012. Complex geography and poor terrestrial infrastructure in Iraq means satellite based broadband Internet is quickly becoming the preferred high speed solution for the majority of the country.
Anthony Walker, CEO of Bentley Walker, said: "We have been very happy with our Ka-band system, which also uses Newtec equipment, in Libya, where it is our number one selling service, and we will use the same product to take us to the forefront of the market in Iraq. The Newtec Network Management System will provide our in-country distribution partners full access and control to the installed terminals, allowing our partners to deliver on-the-spot after-sales support in the local language. Newtec's unique capability to enable Committed Information Rate (CIR) services is another clear advantage that allows us to extend our services to business users who typically have higher service requirements. We can now deliver tailor-made service solutions in line with the requirements of all customers."
The Newtec VSAT terminals have been designed for both consumers as well as for small and medium enterprises (SME). The terminals provide bi-directional connectivity over satellite, supporting a wide range of IP-based services like Internet access and VoIP, as well as multicast based services. Newtec's modems are engineered to operate with the latest generation of high throughput Ka-band satellites, enabling much higher throughput than has previously been possible.
Serge Van Herck, CEO of Newtec, said: "We believe there is a high demand in Iraq for satellite Internet access and we are very pleased to be working with our partners Bentley Walker and Avanti to deliver a new service offering in the region. Our VSAT terminals have been developed to keep operational costs down whilst maintaining maximum quality and ensuring the optimal link for each and every end user."
Newtec has already delivered thousands of terminals for Bentley Walker's Freedomsat service in Libya, which was launched only one year ago. Several of Newtec's VSAT hubs have already been deployed by Avanti and are currently being operated from Avanti's teleport in Cyprus, enabling service deployment towards the various HTS Ka-band spotbeams on the HYLAS 2 Ka-band satellite.
- ENDS -
Your Contacts
Newtec
Kerstin Roost
Public Relations Director
Tel: +49 30 430 95 562
E-mail: Kerstin.Roost@newtec.eu
Bentley Walker
Neil Denyer
Sales Manager
Tel: +44 23 92 311 103
Email: Neil@bentleywalker.com
IBC 2014: Hall 1 Booth A49
Speaking Engagement
Presentation at the VSAT 2014 Conference
Date: 17 Sept. 2014; 12.35 - 12.55 (noon), Venue: Millennium Gloucester Hotel in London, UK
Topic: You can't predict the future! So can you prepare yourself?
Speaker: Serge Van Herck, CEO of Newtec
Additional Material
About Newtec
Newtec, www.newtec.eu, is specialized in designing, developing and manufacturing equipment and technologies for satellite communications. As a pioneer in the industry, Newtec is dedicated to creating new possibilities for the broadcast, IP trunking and backhauling, consumer and enterprise VSAT and government and defense markets. Our products and technologies can be applied in a wide range of single and multiservice applications from DTH broadcasting, video contribution and distribution and disaster recovery and backbones for cellular backhauling, to small and medium enterprises, SCADA networks, manned and unmanned aircrafts, border control and Morale, Welfare and Recreation (MWR).
For over 29 years, our dedicated team of specialists has set industry standards with the most efficient, scalable and economical technology solutions. New challenges and customer needs offer opportunities to explore new boundaries. This empowers us to work even harder, helping customers to perform their best so that, together, we can make the world a safer, more informed and connected place. As a result, more than 3 billion people watch TV every day thanks to Newtec technology.
Newtec is a European company founded in 1985. Through commercial offices in Sint-Niklaas (Belgium), Dubai (UAE), Singapore, Beijing (China), Sao Paulo (Brazil) and Stamford, CT (USA) as well as an extensive network of over 80 certified partners, Newtec can meet customer's needs worldwide.
About Bentley Walker
Bentley Walker, www.bentley-walker.com, is ranked as the largest supplier and operator of VSAT Networks outside of North America. Comsys independently audited Bentley Walker as having around 45% of the Market in Europe and the Middle East, to date having sold and brought online over 12,000 VSATs. Bentley Walker Ltd and Bentley Telecom are both privately owned Companies, the former started in 1947 by the Late LT Commander C Walker (George Cross DSC, DSO, DFC) RNVR in 1947 and is currently run and owned by Mr. Anthony Walker and Mr. Matthew Walker, the shares in trust to the next generation thus ensuring the business continues to be a family owned and run business.
For more information visit: www.freedomsat.com/newtec