The winners of the 2014 Corporate & Financial Awards represent the best in investor relations, stakeholder engagement and city communications. The awards, which have been growing since 2012, have reflected the changing nature of communications and consistently honour excellence in the industry.
At the 2014 awards, held last night, awards were distributed to companies from across the spectrum of investment, including those listed on foreign exchanges, unlisted and from the AIM to the FTSE 100. Judges rewarded entries on the basis of their ability to communicate complex topics in a transparent way, to meet and surpass the requirements placed on corporate reporting and the quality of the completed work.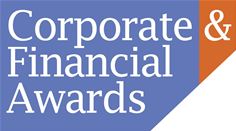 Corporate & Financial Awards logo
The consultancy of the year prize was won by MHP Communications which also took home a gold, two silvers and a highly commended award on the night. VTB Capital, which won best in-house team was the winner of two gold awards last year for its work with the media, analysts and investors.
Traditional corporate stakeholders – investors, financial analysts, certain media outlets – have begun to grow out of a black-and-white view of business that took into account only financial issues. Over the past two decades, and particularly since 2008, stakeholders want more. They want more from a business in terms of communications and in terms of reputation and brand development. Companies, thus, in dealing with this change, have had to alter their communications strategies and practices.
Thomas Churchill, a Corporate & Financial judge and IR executive at Premier Farnell plc, said: "The range of entries to the Corporate & Financial Awards demonstrated the considerable level of innovation in corporate reporting today. It was exciting to see how companies continue to find new ways to tell their stories and express their business's culture and personality."
Andrew Thomas, founder of Cravenhill Publishing, said: "The Corporate & Financial Awards is the only awards programme to recognise the convergence of investor relations, corporate communications and financial PR and, since the event was launched in 2012. Those who will receive trophies or certificates this evening have been unstinting in their communications efforts, maintaining dialogue with investors, analysts, business journalists and the wider stakeholder community."
For more information about the Corporate & Financial Awards, please email annabelle.moore@communicatemagazine.co.uk, call +44 (0)20 7498 7008 or visit www.communicatemagazine.co.uk/cfa14
The full list of winners is as follows:
Specifics
Best corporate website: FTSE 100
Gold - BG Group plc and Addison Group
Silver - RBS and ORM Bronze - Rexam plc and Addison Group
Best corporate website: FTSE 250
Gold - Inchcape plc and Black Sun Plc
Silver - Stock Spirits Group PLC and Addison Group
Highly commended- Taylor Wimpey plc
Best corporate website: Unlisted/International
Gold - Ageas
Best printed report: FTSE 100
Gold - Tullow Oil and Black Sun Plc
Silver - ARM Holdings and Radley Yeldar
Bronze - Sage Group plc and Black Sun Plc Highly commended - Lloyds Banking Group
Highly commended - Severn Trent and Radley Yeldar
Best printed report: FTSE 250
Gold - Berendsen and Radley Yeldar
Silver - Hays plc and Conran Design Group Bronze - African Barrick Gold and Black Sun Plc
Bronze - Derwent London and MerchantCantos
Highly commended - Catlin Group Limited and Emperor
Highly commended - National Express Group PLC and Luminous
Best printed report: Unlisted/International
Gold - Cancer Research UK and Conran Design Group
Silver - Pacific Basin Shipping (HK) Ltd and Accrue Fulton Silver - WorldPay and Carnegie Orr
Bronze – Gemalto N.V. and Radley Yeldar
Highly commended - Uralkali and Black Sun Plc
Highly commended - TAQA and MerchantCantos
Best printed report: Small cap/AIM
Gold - London Mining and MerchantCantos
Silver - Anite plc and Emperor Silver - Tribal Group plc and Accrue Fulton
Bronze - Grainger and Radley Yeldar
Bronze - Xchanging and MerchantCantos
Highly commended - Novae Group and Haggie Partners
Best online report: FTSE 100
Gold - Legal & General Group plc and nexxar
Silver - ARM Holdings and Radley Yeldar Bronze - Standard Chartered and SAS MSLGROUP
Highly commended - Rio Tinto and Black Sun Plc
Highly commended - Rolls-Royce and Conran Design Group
Best online report: FTSE 250
Gold - Thomas Cook Group and Radley Yeldar
Silver - Inchcape plc and Black Sun Plc
Best online report: Small cap/AIM
Silver - Next Fifteen Communications and Radley Yeldar
Best online newsroom
Gold - Adidas and TheNewsMarket
Bronze - Ageas
Most innovative financial communications
Gold - Berenberg and MHP Communications
Silver - State Street
Campaign/Strategy
Best M&A/other transaction communications
Gold - Tata Consultancy Services
Silver - CALA Group and MHP Communications
Bronze - Old Mutual Global Investors and Smithfield Consultants
Best IPO communications
Gold - Lenta Ltd and Instinctif Partners
Silver - Seplat Petroleum Development Company and World Television and FTI Consulting
Bronze - Stock Spirits Group PLC and Addison Group
Best crisis communications
Gold - The Shard and Weber Shandwick
Best management of corporate & financial media relations
Gold - Old Mutual Global Investors and Smithfield Consultants
Silver - Berenberg and MHP Communications
Highly commended - CALA Group and MHP Communications
Best evaluation of a communications campaign
Silver - Verizon and Commetric
People
Best in-house corporate and financial communications team
VTB Capital
Best IR agency or PR consultancy
MHP Communications