The Corporate & Financial Awards shortlist has been revealed. The programme is the leading European celebration of outstanding financial communication strategies that target the City and its influencers. Stakeholder communications, both internally and externally, are a vital tool for the any sector; the awards recognise successful stakeholder relations.
This year's shortlist is the most competitive yet, with both the reporting categories having six strong shortlists. Those shortlisted include Rexam plc, BG group and Thomas Cook. To view the full shortlist, click here: http://bit.ly/CFAshortlist. This year's categories recognise successful campaign strategies, and consistent and successful communication through corporate websites and print reports to online newsrooms and digital media. Both Black Sun and Radley Yeldar were selected by the judging panel to be shortlisted in several categories this year.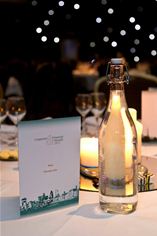 CFA 13
Due to the event's expansion, which parallels the UK economy's restabilisation, the winners will be announced and celebrated in a larger venue this year – the Brewery in London on 15 July. Last year's winners saw Travelodge and RLM Finsbury take home the Grand Prix award for their excellent management of the stakeholder relations crisis induced by Travelodge's impending sale. The awards ceremony recognises excellence in the industry and is a unique opportunity to celebrate the good work being done by the best communications teams in the UK and Europe.
Andrew Thomas, founder of Cravenhill Publishing says, "The Corporate & Financial Awards recognise excellence in communications with the city and its influencers. This year's shortlist reflects some of the best work in European stakeholder relations. As always corporate and financial communications gets better each year, but this year, the entries have upped their game. Thus, the competition for gold awards will be fierce and we are excited to announce the winners on 15 July."
To attend the gala dinner and award ceremony please contact Hannah Hodges or Annabelle Moore or call +4420 7498 7008.
The full shortlist is as follows:
Specifics
Best corporate website
FTSE 100
BG Group plc and Addison Group
Rexam plc and Addison Group
RBS and ORM
FTSE 250
Inchcape plc and Black Sun plc
Stock Spirits Group plc and Addison Group
Taylor Wimpey plc
Unlisted/ international
Ageas
Best printed report
FTSE 100
ARM Holdings and Radley Yeldar
Lloyds Banking Group
Sage Group plc and Black Sun plc
Severn Trent and Radley Yeldar
Tullow Oil and Black Sun plc
FTSE 250
African Barrick Gold and Black Sun Plc
Berendsen and Radley Yeldar
Catlin Group Limited and Emperor
Derwent London and MerchantCantos
Hays plc and Conran Design Group
National Express Group PLC and Luminous
Unlisted/ International
Cancer Research UK and Conran Design Group
Gemalto and Radley Yeldar
Pacific Basin Shipping (HK) Ltd and Accrue Fulton
TAQA and MerchantCantos
Uralkali and Black Sun plc
WorldPay and Carnegie Orr
Small cap/ AIM
Anite plc and Emperor
Grainger and Radley Yeldar
London Mining and MerchantCantos
Novae Group and Haggie Partners
Tribal Group plc and Accrue Fulton
Xchanging and MerchantCantos
Best online report
FTSE 100
ARM Holdings and Radley Yeldar
Legal & General Group plc and nexxar
Rio Tinto and Black Sun plc
Rolls-Royce and Conran Design Group
Standard Chartered
FTSE 250
Thomas Cook and Radley Yeldar
Inchcape plc and Black Sun plc
Small cap/ AIM
Next 15 and Radley Yeldar
Best online newsroom
Ageas
Adidas and TheNewsMarket
Most innovative financial communications
Berenberg and MHP Communications
State Street
Campaign/Strategy
Best M&A/other transaction communications
CALA Group and MHP Communications
Old Mutual Global Investors and Smithfield Consultants
Tata Consultancy Services
Best IPO communications
Lenta Ltd and Instinctif Partners
Seplat Petroleum Development Company and World Television and FTI Consulting
Stock Spirits Group PLC and Addison Group
Best crisis communications
The Shard and Weber Shandwick
Best management of corporate & financial media relations
Berenberg and MHP Communications
CALA Group and MHP Communications
Old Mutual Global Investors and Smithfield Consultants
Best evaluation of a communications campaign
Verizon Enterprise Solutions and Commetric