Artists have created colourful and interactive installations on pedestrian walkways
Bankside, London, December 2015 – Better Bankside welcomes Colourful Crossings to Southwark Street. The exciting project sees three international artists transform the street with interactive and unusual pedestrian crossings that are already bringing colour, movement and animation to Southwark Street, London SE1.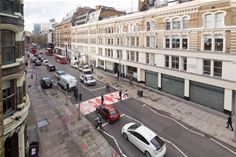 Crossing Stories 1
Colourful Crossings is part of Better Bankside's Avenue of Art initiative. Avenue of Art takes art out of its traditional gallery context to transform public spaces.
The artists commissioned include:
LAST CHANCE TO SEE Colourful Crossings has put the spotlight on Southwark Street with an interactive and innovative artwork. Visitors to Bankside will receive a spontaneous round of applause on walking through a spotlight projected onto a busy pavement under the railway bridge at the junction of Redcross Way. The more movement under the light, the louder the applause gets, encouraging people to dance and move around, eventually reaching the volume of a 500-member audience. Performer was created by New York based artist and designer Adam Frank and will be in place every evening from 6pm-10pm until 8th January 2016.
Follow this link to view a video of Performer: http://bit.ly/1NI4Rzw
A vivid graphic image applied to the streetscape outside the Menier Gallery 'Crossing Stories' has transformed a pedestrian crossing. Artist collective The Office for Crafted Architecture collected an A-Z of personal stories from Bankside locals that take you on a journey of discovery. A playful board game on the pavement is made up of words and pictograms to encourage exploration of Bankside's secrets.
Pick up a Crossing Stories map and guide at the Menier Gallery or Bankside Community Space. Follow this link for a video about the project - https://www.youtube.com/watch?v=rM15wlJZeJE

Further information about Crossing Stories can be found here www.crossingstories.co.uk
COMING SOON The third installation by renowned photographer Morgan Silk is coming soon. Silk has created a photographic image which can only be seen from a particular viewpoint, creating an optical illusion. The image will depict a falling woman - paying homage to Bankside's history including the story of the Crossbones Graveyard, an unconsecrated burial ground for prostitutes in medieval London. Keep an eye out for this incredible piece of art.
The Colourful Crossings installations have added to the existing creative interventions along the street which include Ian Davenport's Poured Lines by Blackfriars Road and Mark Titchener's Another World is Possible on the exterior of citizenM.
As one of the busiest streets in Bankside, Southwark Street can sometimes be a barrier to people exploring the neighbourhood. "We want to make Bankside a better place to live, work and visit," said Donald Hyslop, Head of Partnerships at Tate and Chair of Better Bankside. "The Colourful Crossings project will transform the public realm to the benefit of the local businesses and visitors to the area. We aim to draw footfall further south from the busy riverside stretch, encouraging people to explore Southwark Street and beyond and discover Bankside's full cultural offer.
The Colourful Crossings is part-funded through Transport for London's 'Future Streets Incubator'. The project aims to increase pedestrian footfall along the street, changing the way it is used and perceived by the public and motorists.
Notes to Editors:
About Better Bankside
Better Bankside is a Business Improvement District (BID) which exists to make Bankside a better place to work, live and visit. The BID boundary runs from London Bridge in the east to Blackfriars in the west and from the riverside south along Great Suffolk Street.
Better Bankside was one of the first BIDs to be established. A Business Improvement District is an independent, business-owned and led company, which seeks to improve a given location for commercial activity. Better Bankside's members are the 600+ companies in the BID area who pay its annual 'levy'. Visit www.betterbankside.co.uk for more information. Get social with Better Bankside on Twitter @BetterBankside.
About Avenue of Art
Avenue of Art will collaborate with contemporary artists to animate Southwark Street, one of Bankside's busiest streets and public spaces, and its side streets, to bring greater footfall and encourage longer dwell times in these spaces south of the riverside.
Avenue of Art re-visions these streets and spaces as a laboratory for contemporary art in the public realm - a place where ideas are tested and new possibilities explored. Working with artists and cultural institutions, Avenue of Art will create projects with and in the spaces and buildings along and across Southwark Street, developing its identity as an inspiring and creative public space within the Bankside and South Bank Cultural Quarter.
About Future Streets Incubator programme
The Future Streets Incubator is funded by Transport for London and supports innovative on-street trials that aim to encourage sustainable transport and create vibrant public spaces. It delivers on the recommendations of the Roads Task Force, which calls for a stronger focus on innovation and trialling new approaches.
A number of bold and creative ideas have been given the green light to share in this year's funding. They will work with partners, local highways authorities and the Department for Transport to deliver the schemes in 2015. Successful trials could be rolled out across London.
For more information, please contact:
Flo Levy
Fourth Day PR
Flo@fourthday.co.uk
020 7403 4411