Second edition of the global tech startup competition offers more chances to win, more mentoring and another massive prize pot for the enterprise tech startup community at www.techtrailblazers.com
LONDON, UK – Calling all innovative enterprise tech startups: The second-annual Tech Trailblazers Awards have officially opened for entries at www.techtrailblazers.com. Following a successful inaugural outing, the Tech Trailblazers awards community is issuing a global call to action to all enterprise technology startups that are five years old or less and at C-series funding or below: Enter the Tech Trailblazers to win the glory and the goodies. Submit your entry before the early-bird deadline at 11:59pm PT on August 12th. Final deadline is mid September.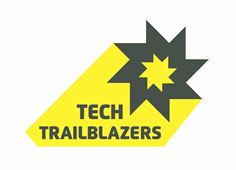 Tech Trailblazers Awards logo
The Tech Trailblazers Awards are designed explicitly for smaller businesses and tech startups. The awards have low barriers to entry and prizes that not only recognize enterprise tech innovation, but also proactively help startups grow their businesses. Categories include: big data, cloud, emerging markets, mobile technology, networking, IT security, storage, sustainable IT and virtualization. New this year are the Regional Trailblazers Cups, which give entrants another chance to win an award. Each entrant is automatically entered into the appropriate Regional Cup free of charge.
Winning Tech Trailblazers get much more than just a logo and a press release. The prizes include marketing and business-development products and services worth thousands of dollars from an estimated US $1 million prize fund, plus expert advice in the form of VC and CTO mentoring.
The extensive judging panel reflects the Tech Trailblazers' pioneering "community spirit" approach to enterprise IT awards. All entrants to the Tech Trailblazers Awards get the chance to have their technology reviewed by some of the IT industry's eminent influencers from around the world.
The Tech Trailblazers Awards prize fund, projected to be worth in excess of $1m, is supported by sponsors and industry partners including the Cloud Security Alliance, Computing, GigaOM, Innovation Warehouse, MyNewsDesk, RealWire, VMware, and many others.
Rose Ross, founder and Chief Trailblazer of the awards, said, "Whether you are a startup in big data in Brazil, crazy about cloud in China, green IT-aware in Germany, security savvy in Spain, nuts about networking in New Zealand or mad about mobile in Macedonia, we want to hear from you over the next few months. This year we'll have more sponsors, more media partners and more chances to win. The startup party has only just started, so if you are a hot tech startup, make sure you're on the guest list. Startups are the most exciting companies to work with, and so we are looking forward to welcoming even more hot and innovative players in enterprise technology to our global online awards community."
The early-bird submissions fee is $250 with a deadline of August 12th at 11:59pm PT. Entry forms should be submitted before the final closing date of mid-September for consideration by the expert panel.
For more information and to download an entry form, please visit www.techtrailblazers.com.
To join the Tech Trailblazers as a media partner, industry supporter or sponsor, please email dshannon@techtrailblazers.com.
To be added to the mailing list to receive the latest updates, please email innovate@techtrailblazers.com.
Follow the Tech Trailblazers Awards on Twitter @techtrailblaze or using hashtag #TTAwards.
(ends)
Notes to editors
Please contact Olivia Shannon at Omarketing for more information (contact details below).
At present the judging panel includes:
Mohit Agrawal, Founder and Editor, Telecom Circle (Twitter: @telecomcircle)
Cynthia Artin, President, Artin Arts (@cynthiaartin)
Joe Baguley, Chief Cloud Technologist, VMware (@joebaguley)
Frank J. Bernhard, Strategy and Operations Director, Deloitte Consulting (@FrankJBernhard)
Steve Broadhead, Founder and Director, Broadband-Testing Labs (@steve_broadhead)
Rebel Brown, Author and Startup Veteran (@RebelBrown)
Mike Burkitt, CTO, Launchpad Europe (@launchpadeurope)
Teresa Cottam, Founder and Chief Analyst, Telesperience (@teresacottam)
Hans De Leenheer, Blogger (@hansdeleenheer)
Chris Evans, Consultant and Blogger, TheStorageArchitect.com (@chrismevans)
Marty Foltyn, Hands-On Lab Program, SNIA (@MartyFoltyn)
Ian French, Channel Guru, Mentor and Entrepreneur (@siceo)
Edward P. Gibson, Director, Forensic Technology Solutions, Pricewaterhousecoopers (@EdwardPGibson)
Martin Glassborow, Blogger, Storagebod (@storagebod)
James Governor, Analyst and Co-founder, RedMonk (@monkchips)
Derrick Harris, Senior Writer, GigaOM (@derrickharris)
Mark Hillary, CEO, IT Decisions (@markhillary)
Brian Honan, CEO, BH Consulting (@brianhonan)
Elise Huang, Partner, WestSummit Capital
Sam Johnston, Director, Cloud & IT Services, Equinix (@samj)
Ben Kepes, Principal, Diversity Limited (@benkepes)
Justin Lodge, Infrastructure Architect, National Australia Bank (@justin_lodge)
Chris Mellor, Storage Editor, The Register (@chris_mellor)
Simon Robinson, Research Vice President, 451 Research (@simonrob451)
Kai Roer, Senior Partner, The Roer Group (@kairoer)
Raj Samani, EMEA Strategy Advisor, Cloud Security Alliance (@raj_samani)
Andrew Seldon, Editor, Hi-Tech Security Solutions, TechNews (@andrewseldon)
Sarb Sembhi, Director, Consultancy Services, Incoming Thought (@sarbsembhi)
Enrico Signoretti, Senior Consultant, Juku Consulting SRL (@esignoretti)
Harkeeret Singh, Global Head of Energy & Sustainable IT, Thomson Reuters (@harqs)
Jennifer Steffens, CEO, IOactive (@securesun)
Jon Toigo, CEO, Toigo Partners International (@jontoigo)
Monica Zlotogorski, Editor, Inside Latin America, TM Forum (@MonicaCZN)
The inaugural winners and runners up:
Big Data Trailblazers
Winner
-Verdigris Technologies (@Verdigristech), www.verdigristech.com, Moffett Field, California (USA)
"We are honored to be inaugural winners in the Tech Trailblazers competition and delighted that industry experts, our peers, and the general public recognize the importance of the work we are doing. Big energy data represents a transformational shift for the sake of tackling global climate change." Mark Chung, founder, Verdigris Technologies
Runners-up
-GoodData (@GoodData), www.gooddata.com, San Francisco, California (USA)
-MapR Technologies (@MapR), www.mapr.com, San Jose, California (USA)
Cloud Trailblazers
Winner
-SaaSID (@SaaSID), www.saasid.com, Basingstoke, England (UK)
"Winning the Tech Trailblazer Award, just six months after bringing SaaSID Cloud Application Manager to market, provided a valuable boost for our young tech company; …. Submitting for the award also put the company in front of an international judging panel made up of analysts, editors and experts from the information security industry."
We applaud the efforts of the Tech Trailblazers' team in supporting innovative technology companies.." SaaSID CEO, Ed Macnair
Runners-up
-CloudLock (@CloudLock), www.cloudlock.com, Waltham, Massachusetts (USA)
-Tiatros Inc. (@Tiatros), www.tiatros.com, San Francisco, California (USA)
Emerging Markets Trailblazers
Winner
-CloudByte (@CloudByteInc), www.cloudbyte.com, Bangalore, India
".. It is extremely satisfying to be identified as the most innovative technology startup by an esteemed panel of judges at Tech Trailblazer," Felix Xavier, CTO and founder, CloudByte.
Runners-up
-abcdexperts (@ABCDexperts), www.abcdexperts.com, Escazú, Costa Rica
-Chalet Tech (@ChaletTech), www.chalettech.com, Taipei, Taiwan
Mobile Trailblazers
Winner
-Moasis Global LLC (@MoasisGlobal), www.moasisglobal.com, West Palm Beach, Florida (USA)
"We are delighted and humbled to be named the global Mobile Tech Trailblazer for 2012. It is exciting that both the public and the judging panel at Tech Trailblazers recognize the value that Moasis bringing to the mobile ad space." Ryan Golden, CEO, Moasis.
Runners-up
-GENWI (@GENWI), www.genwi.com, Los Altos, California (USA)
-Mezeo Software (@Mezeo), www.mezeo.com, Houston, Texas (USA)
Networking Trailblazers
Winner
-Aryaka (@AryakaNetworks), www.aryaka.com, Milpitas, California (USA)
"Aryaka was honored to be named a winner of the inaugural Tech Trailblazers' Networking Award. This award proved that the networking industry has recognized Aryaka's incredible momentum as we revolutionize the networking space." Ajit Gupta, Founder, President and CEO of Aryaka.
Runner-up
-Embrane (@Embrane), www.embrane.com, Santa Clara, California (USA)
Security Trailblazers
Winner
-VentiSys Technology Ltd (@Ventisys), www.ventisys.com, Sligo, Ireland
"Being named the security Tech Trailblazer has been a massive boost for Ventisys. We have made amazing connections and gained real kudos within the community. The prizes were an unexpected but most welcome bonus. We'll definitely be trying our luck again this year." Joe Morrissey, CEO, Ventisys
Runners-up
-Chalet Tech (@ChaletTech), www.chalettech.com, Taipei, Taiwan
-Vaultive (@Vaultive), www.vaultive.com, New York City, NY (USA)
Storage Trailblazers
Winner
-SMART Storage Systems (@SMARTSSD), www.smartstoragesys.com, Newark, California (USA)
"This year has been a critical year in the company's evolution," said John Scaramuzzo, president of SMART Storage Systems. "… Being named the Storage Trailblazer not only validates our approach and is a great bookend to the year, but sets us up to further capitalize on this year's hard work in the coming year."
Runners-up
-Actifio (@Actifio), www.actifio.com, Waltham, Massachusetts (USA)
-SolidFire Inc. (@SolidFire), www.solidfire.com, Boulder, Colorado (USA)
Sustainable IT Trailblazers
Winner
-Iceotope (@Iceotope), www.iceotope.com, Sheffield, England (UK)
Iceotope CEO, Neil Bennett. "Seeing Iceotope listed amongst some of the most ground-breaking and successful new start-ups, from every corner of the globe, is absolutely brilliant and emphasises just how far we believe we can reach in the future - as well as how far we've already come."
Runners-up
-GreenQloud (@GreenQloud), www.greenqloud.com, Reykjavik, Iceland
-sustainableIT (@SustainableIT), www.sustainableit.co.za, Rondebosch, South Africa
Virtualization Trailblazers
Winner
-GreenBytes, Inc. (@GetGreenBytes), www.getgreenbytes.com, Ashaway, Rhode Island (USA)
"GreenBytes is absolutely thrilled to win the top prize in the Virtualization category at the first-annual Tech Trailblazers Awards," said Rick Petrocelli, Founder and Director, GreenBytes.
Runners-up
-Nutanix Inc. (@Nutanix), www.nutanix.com, San Jose, California (USA)
-Zerto (@ZertoCorp), www.zerto.com, Boston, Massachusetts (USA)
Media Contacts
For Tech Trailblazers
Olivia Shannon
Omarketing
UK: +44 (0)208 255 5225
US: +1 781 519 0275
olivia@omarketing.com
www.twitter.com/Olivia_at_O
About the Tech Trailblazers Awards
www.techtrailblazers.com
Tech Trailblazers is a new concept in awards, designed explicitly for smaller businesses and startups that are five years old or less and at C-series funding or below. The awards have low barriers to entry and prizes that not only recognize startup innovation, but also proactively help startups grow their businesses with access to exclusive coaching, mentoring and development and prizes from a prize fund worth an estimated $1m+. The awards include the following categories:
Big Data Trailblazers
Cloud Trailblazers
Emerging Markets Trailblazers
Mobile Trailblazers
Networking Trailblazers
Security Trailblazers
Storage Trailblazers
Sustainable IT Trailblazers
Virtualization Trailblazers
In addition to the above categories, all entrants are automatically entered into the Regional Trailblazers Cup competition free of charge. The Regional Cups include:
African and Middle East Trailblazers Cup
Asian-Pacific Trailblazers Cup
European Trailblazers Cup
Latin American Trailblazers Cup
North American Trailblazers Cup
Awards 2014 edition opened on July 4th 2013. The early-bird submissions deadline is 11:59pm PT on August 12th. For more information, please email us at innovate@techtrailblazers.com, follow us on Twitter @techtrailblaze or via the hashtag #TTAwards, visit the website at www.techtrailblazers.com, or visit us on LinkedIn at http://www.linkedin.com/company/tech-trailblazers-awards.