Increased staff productivity, IT time saved, user and network protection increased, comprehensive reporting aids compliance
Bloxx, the innovator in Web and Email content filtering, today announced that NHS Borders, responsible for all NHS services provided in the Scottish Borders, is using Bloxx Web filtering to monitor and report on the Web browsing activity for over 3,000 staff.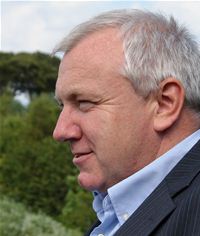 Eamonn Doyle
The Internet is critical for delivering effective and efficient health services within NHS Borders, however with over 3,000 staff split over 30+ sites in the region, a safe and secure Internet browsing environment is crucial to deliver real-time protection to its staff. Bloxx Web Filtering, powered by its Tru-View Technology real-time categorisation engine, is delivering increased staff Internet protection and safeguarding the reputation of the organisation.
"We have been using Bloxx Web filtering appliances for nearly six years now and are delighted with the results. The installation and ongoing support we have received from Bloxx both with the current appliance and our previous one has been outstanding. It is this level of support that figured highly in our decision to stay with Bloxx for our Web filtering and upgrade to a more powerful solution about a year ago," said Ian Merritt, Information Security Lead, NHS Borders.
NHS Borders has different access policies for generic users, standard users and IT support, allowing varying access rights to the Internet based on the needs of these specific user groups. The reporting application is used to provide a clear picture of individual browsing activity. Merritt adds, "The biggest benefit for me has been the Web reporting appliance. I run reports automatically on a monthly basis to highlight top users based on time and download volumes. I can apply filters to provide quick meaningful reports on individual usage to meet requests by line managers looking to determine whether any abuse of Internet access has taken place. Additionally, I can identify why users have been blocked from specific sites."
Merritt adds, "We have saved valuable IT management time and resources. For example, the integration of the Bloxx Web Filter in our network was made easier by its out of the box support of both Active Directory and NT environments which ensures authentication and administration of groups and accounts is easy. After the initial set up and subsequent configuration tweaking, it is more the exception than the rule for me to have to perform any form of maintenance."
"With the real-time Web filtering capabilities from Bloxx, we now have all the flexibility, functionality and capabilities we require to deliver superior protection to our users and ensure they are blocked from inappropriate and productivity draining Web content. And if we have a problem I am safe in the knowledge that Bloxx's exceptional after sales support engineers will quickly resolve it," concludes Merritt.
About Bloxx
Headquartered in the UK with sales offices in Holland, the USA and Australia, Bloxx offers appliance-based Web and email filtering for medium and large organisations in both the business and public sectors. Bloxx has achieved unrivalled sales growth year-on-year to become a leading filtering provider with an estimated 3 million+ users worldwide. Leading UK investment groups Archangel Investments Ltd and Braveheart Investment Group Plc have invested in Bloxx. For more information, visit http://www.bloxx.com
Editorial Contacts
Interviews, photography and further information are available from Jim Black at Bloxx. Telephone Jim on 07717 837853 or 01506 426976, or email: pr@bloxx.com