Barcelona-based vendor recognized for industry leadership, innovations in cyber-risk management, and promoting new collaborative models
26 September 2018 – Barcelona, Spain – Blueliv, a leading enterprise-class cyberthreat intelligence company, today announced that it won the Cybersecurity Breakthrough Award for 'Threat Intelligence Company of the Year 2018.'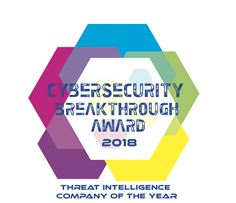 Blueliv: Threat Intelligence Company of the Year
All entries were judged by an independent panel of experts within the information security industry. The mission of the Cybersecurity Breakthrough Awards is to honor excellence and recognize the creativity, hard work and success of cybersecurity companies, technologies and products.
"As a young company Blueliv is 'breaking through' the threat intelligence field quickly and making waves in the overall cybersecurity industry as well," said James Johnson, Managing Director, Cybersecurity Breakthrough. "The Company gained significant momentum in 2018 and we are thrilled to be able to recognize them as a marquee winner of the Cybersecurity Breakthrough Awards program as our Threat Intelligence Company of the Year."
"Blueliv is honored to have been recognized as Threat Intelligence Company of the Year," said Daniel Solís, CEO and founder, Blueliv. "We help organizations protect themselves from the outside in, providing them with fresh, actionable intelligence to reduce their cyber-risk and accelerate decision-making processes. At the heart of our business is a drive towards new collaborative models in cybersecurity, with the goal of socializing the industry. We are delighted that our approach, embodied by our cost-effective solutions and initiatives like the Threat Exchange Network, has been acknowledged today."
Blueliv believes the fight against cybercrime is a collaborative effort, and works together with its customers and partners to configure modular threat intelligence solutions adapted to their needs, all backed up by a world-class analyst team. The company delivers threat intelligence and practical guidance to help security teams of all sizes access relevant information, implement its value and improve their security posture.
Socializing cybersecurity means encouraging parity and fighting cybercrime collaboratively. This approach has boosted Blueliv's Strategic Partnership Program, used by VARs and MSSPs around the world, and the Threat Exchange Network, a growing, free community of cybersecurity professionals, academics and law enforcement agents sharing intelligence. Blueliv has a presence at a number of industry events and will shortly be at ITSA 2018 in Nuremberg, Germany.
***ENDS***
About Cybersecurity Breakthrough
Part of the Tech Breakthrough Awards organization, the Cybersecurity Breakthrough Awards program is devoted to honoring excellence in information security and cybersecurity technology companies, products and people. The Cybersecurity Breakthrough Awards provide a platform for public recognition around the achievements of breakthrough information security companies and products in categories including Cloud Security, Threat Detection, Risk Management, Fraud Prevention, Mobile Security, Web and Email Security, UTM, Firewall and more. For more information visit CybersecurityBreakthrough.com.
About Blueliv
Blueliv is a leading cyberthreat intelligence provider, headquartered from Barcelona, Spain. We scour the open, deep and dark web to deliver fresh, automated and actionable threat intelligence to organizations, helping protect their networks from the outside in. Blueliv's scalable cloud-based technology turns global threat data into sophisticated, relevant intelligence. We enable organizations to save time and resource by accelerating incident response performance, providing user-friendly evidence accessible to all levels within cybersecurity operations teams. Our pay-as-you-need solution delivers an accelerated, predictive view of the threat landscape in real-time. We do not believe in a one-size-fits-all approach, and work together to configure a modular solution bespoke to your needs using separate intelligence modules, all backed up by our world-class in-house analyst team. Blueliv has been named 'Threat Intelligence Company of the Year' by Cybersecurity Breakthrough Awards, a Gartner 'Cool Vendor,' and Go-Ignite winner, in addition to holding affiliate membership of FS-ISAC for several years.
Confidentiality Notice / Advertencia
This message contains information that is private, confidential and intended for the sole use of the recipient. If you are not the named addressee, you are not authorized to read, print, retain, copy or disclose this message or any part of it. If you have received this message in error, please notify it immediately by e-mail or by phone (+34 933 09 61 00) to Blueliv and delete all copies of the message. Your personal data may be included in a data file for the purpose of adequately managing the communications with you. You may exercise the rights of access, rectification, cancellation and opposition in connection with your personal data via e-mail sent to the sender | Este correo electrónico contiene información que es privada y estrictamente confidencial, habiendo sido preparada para el exclusivo uso de su destinatario. Si ha recibido este mensaje por error, le rogamos lo notifique al remitente inmediatamente por e-mail o teléfono (+34 933 09 61 00) a Blueliv y borre los documentos adjuntos. Sus datos personales quedan incluidos en un fichero automatizado cuya finalidad será la de gestionar las comunicaciones mantenidas con usted. Podrá ejercitar sus derechos de acceso, rectificación, cancelación y oposición mediante correo electrónico dirigido a la atención del remitente.
Contact:
Josh Hoppen, Communications specialist, Blueliv
+34 612 28 72 64
joshua.hoppen@blueliv.com